Updates on the CCHS Football Team
The CCUSD school year has now officially been underway for over a month in its new distance learning format, and one aspect of regular school that has definitely been missed is the CCHS football team. 
The Culver City varsity football team has had much success as of late. In 2018, the team won their first CIF division championship in forty years, and last season they finished the regular season undefeated with a record of 10-0.
Unfortunately, due to the coronavirus pandemic, Culver City's season has been on halt and will not begin on schedule. There is some good news, however. The season is yet "neither postponed or canceled," according to head coach Jahmal Wright, who is entering his 12th year with Culver City. "The season has been rescheduled to start in January," and the team is "still waiting for the green light from the L.A. County health officials and the governor on when they will allow [the team] to actually start practice." 
With CCHS's past success, there were high expectations for this upcoming year. Culver City finally moved up to the Bay League this season as a result of its recent accomplishments after being in the Ocean League for many years. This wasn't always the case, however. After winning the CIF championship two years ago, CCHS lost 32 seniors for the next season.
"Not a lot of people thought we would be good," said Zevi Eckhaus, the starting varsity quarterback. "But we ended up going 10-0, and just seeing how even with not a lot of players coming back we were able to be so successful, and that this year we have a lot of players coming back and we didn't lose as many, I was feeling really good about this season and this team." 
Eckhaus's ultimate goal is to win another championship. One of the team's leaders, Eckhaus worked his way up to the starting varsity quarterback position by his sophomore year, and was an instrumental component of the team's CIF championship two years ago.
A number of players, especially the team's seniors, expressed disappointment after hearing that the upcoming season was being postponed. Eckhaus said that hearing the news was a shocker to a lot of people on the team, but stated that "one thing that I tried to stress to my teammates was just to try and stay positive. I encouraged them to kind of get through this, keep working individually, keep making sure that we're in shape so that you know when this all clears up we can get back together and work and be a successful football team." 
Understandably, Coach Wright said that playing football was "kind of the last thing on my mind." These are unprecedented times, and he stated his concern for the health and well-being of his family and players. 
However, the whole team certainly realizes the importance of preparing for when the season might begin in January, even if they cannot physically meet with each other. Coach Wright said that the players' motivation and dedication to playing football means that they can "take it upon themselves to stay in shape individually and do their own workouts." The team also meets multiple times a week via Zoom in order to stay in touch with one another and discuss plays and schemes for potential practices.
Regardless of when the team will finally be able to begin their season, the players on the CCHS football team have continued to work hard and stay motivated. With a quality coaching staff and a talented group of players, Culver City seems poised to make another championship run this season.
About the Writer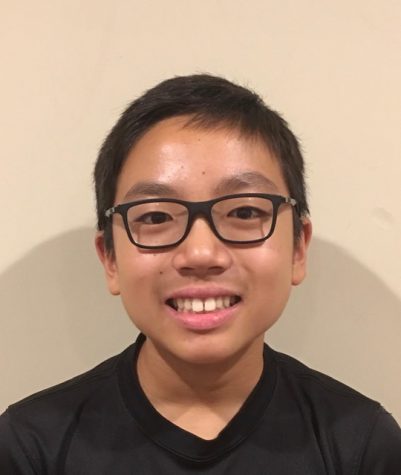 Jonathan Kim, Staff Writer
Hi, I'm Jonathan, a freshman attending CCHS and a staff writer for The Centaurian. Other than journalism, I have interests in the environmental sciences,...