Newly Opening: Village Well Books and Coffee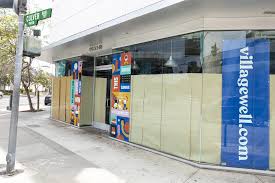 This pandemic has forced us to isolate ourselves in our little bubbles. We are living in unchanging environments, interacting with the same people and thus hearing the same stories and opinions. This lack of contact with the outside world has allowed many to turn a blind eye to the struggles around us. Yet books are a way to pop this bubble. Not only do they give us the opportunity to experience whole new worlds, but also meet and learn about new people and views, while still staying safe. 
Village Well Books and Coffee is a community-focused and impact driven independent bookstore that will soon be opening just across the street from Culver City Hall at 9900 Culver Blvd. Its goal is to create a safe space where everyone can feel welcome and accepted, and learn together to improve the Culver community and our world. 
Village Well provides a unique service that is so much more than just the obvious books and coffee. Living up to its name, the bookstore is a metaphorical "well" of understanding, quenching people's thirst for knowledge and helping our community flourish. And just like a "village well," it serves as a place where all of us can come together to socialize, learn and relax. 
Every month, the bookstore highlights a social issue. This month's issue is about how coronavirus exposes the economic injustice in our country. On its website the bookstore provides important information, suggested books, and organizations for those affected by this problem, so that community members can expand their knowledge and lend a helping hand to those in need. 
Founder Jennifer Caspar has dreamt of opening Village Well Books and Coffee for most of her life. She has always wanted to "be a host and bring people together to create an environment that is conducive to interesting and stimulating conversations." She's eager to see her vision realized when the store opens. Seeing customers dropping in, getting a coffee or picking up a book, conversing with an old friend or even a new friend – Caspar says she looks forward to building more intimate connections with her patrons. 
Caspar has many aspirations for the bookstore. She hopes to continue finding ways to improve the community, such as by hosting events with all sorts of speakers (from poets to authors to artists), as well as by organizing community activities. During this pandemic, she's already gotten to work, creating online events for the community to enjoy.
Despite the virus, Village Well Books and Coffee has adapted to provide for Culver City as best as they can. You can already order books on their website and get them delivered straight to your home, and once the store opens it will have outdoor seating and curbside pickups. 
With competition from big corporations, it can be hard for independent bookstores to succeed. So the next time you feel the itch for a new book, support a local bookstore like Village Well to contribute to the betterment of our community.