Magic Man and Their Synthpop Sound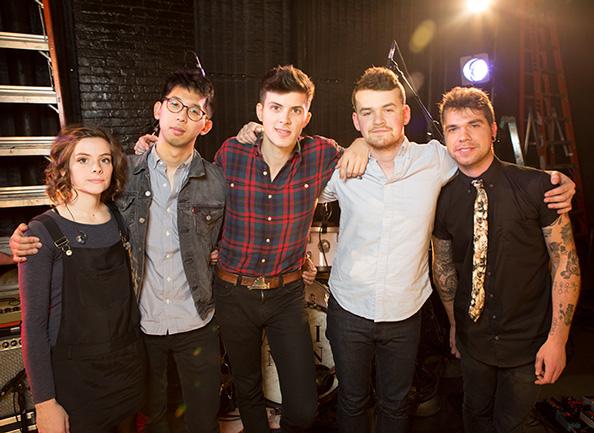 The resurgence of the electronic sounds of the "New Wave" movement of the '80s has been a prevalent force in contemporary music, with many performers shifting toward infamously trite bass-driven melodies. However bands like the Killers, Passion Pit, and Walk the Moon instead beginning to constitute the modern alternative indie pop subgenre, more concerned with developing an artistic originality to their music. One of the up-and-coming synth rock bands has been in the works since preschool, and last year, their upbeat euphoric album Before the Waves produced an Alt Nation top-18 hit before they were all even 25 years old.
Ebullient lead singer Alex Caplow and guitarist Sam Vanderhoop Lee grew up together in the suburbs of Boston and went to high school with bassist Gabe Goodman, who dropped out of college about a year ago to join the band. Caplow later met Justine Bowe, keyboardist, while they were attending Tufts University and Lee was at Yale. Honestly, when I told Lee on Twitter that I didn't know where drummer Joey Sulkowski "came from", he responded simply with "me neither". They were friends for years before forming the group, but the band took a long to shape into its modern form and a lot of traveling from the small state of Massachusetts.
Caplow's mother is a French native, and as a fluent speaker of the language, he spent some of his college experience in France, where a relationship, which ended with his return to the U.S., inspired their hit song "Paris". With Lee joining him, they spent a summer traveling around the countryside, working on farms for room and board and dabbling with music on Lee's laptop, ultimately resulting in their 2010 self-released album Real Life Color. In one of these French towns, they met a young magician, who they would preview their music for, and whom they regard as their first fan (therefore their namesake "Magic Man"). After returning to America, the two moved into an apartment in Providence, Rhode Island which they called the "Fox Den", and recorded music all night to essentially sleep all day. With the addition of Bowe, Sulkowski, and eventually Goodman, the band was signed to Columbia Records, where they added the drum parts to their Fox Den demos and thus completed their first record on a major label, Before the Waves.
Substream Magazine said of their album "Besides the story-like lyrics, Before the Waves would not be the polished product it is without the magical sounds of their ever present synth, which adapts to fit the mode of any song." Their captivating, impassioned song "Paris" peaked at #1 on Alt-Nation's Alt 18 Countdown and the song was named #18 in the Alt-Nation tracks of 2014. The jaunty yet unsettling video for the single has amassed over a million views on YouTube since its release last February, and another video for the song "Texas" features actress and fan Abigail Breslin. "Tonight", an anthem that can make a group of strangers feel like they've known each other all their lives, has been featured in numerous college football games on ESPN and on the soundtrack for soccer video game FIFA 15. In March, the band will set off on their first headline tour with guests Panama Wedding, playing locally in Los Angeles at El Rey Theatre on March 25. Sound of Boston described their album as "a portrait of the best parts of youthful bliss" and whether you like pop, alternative rock, or Bruce Springsteen, the band is well-worth listening to.