The newest AVPA Theatre Production, "The Laramie Project" by Moisés Kaufman, is almost here. The play is a true story that tells one of the most tragic moments in the fight against homophobia, and those who suffered and continue to suffer because of it. In honor of the 25th anniversary of Matthew Shepard's death, CCHS has the privilege of reincarnating this very meaningful event at the Kirk Douglas Theatre in Downtown Culver City on Nov. 2-5.
The play centers around the aftermath of the beating and death of 21-year-old Matthew Shepard, a gay university student who lived in Laramie, Wyoming in 1998. The Tectonic Theater Project and their founder, Moisés Kaufman, traveled to Laramie after Shepard's death to interview members of the community, and subsequently wrote the play. All of the "characters" are real people who lived in Laramie at the time of Shepard's death and each show a wide array of different opinions and perspectives, allowing viewers to gain a unique understanding of what happened and how the people of Laramie were affected. The play provides viewers with a powerful statement of the price of hate and the importance of hope, and thanks to the Tectonic Theatre Project's continuing fight, Shepard's story is never forgotten.
The show covers many heavy topics, including graphic descriptions of violence, blatant homophobia, and accusations of rape. Due to some of these dark topics, adult actors are being hired to play certain roles that very few of the CCHS actors will be tasked with, such as saying some harsh lines and slurs and playing delicate roles, including Shepard's father.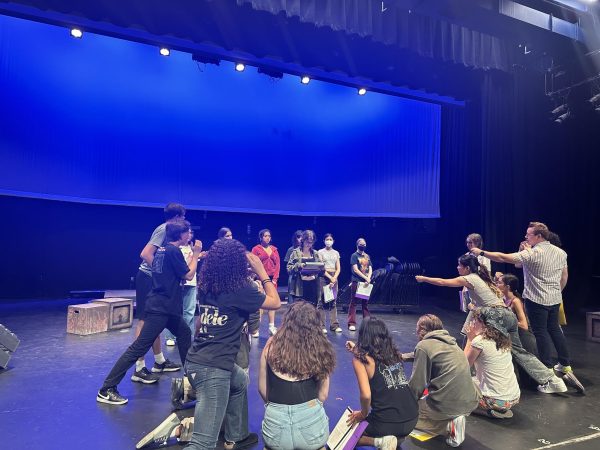 AVPA Art and AVPA Theatre are collaborating to decorate the lobby of the Kirk Douglas Theater with pieces of art that resemble certain themes and aspects of "The Laramie Project". According to Serena Fisch, the Freshman Co-Creative Director of the AVPA Art and "The Laramie Project" collaboration, this show is important because "this isn't a fictional thing. This is a real murder that happened […] People were hurt because of this." 
The other Freshman Co-Creative Director, Zoey Doss, said, "I think it's important because even though it happened a while ago, there are still stuff like that happens way too often for it to be okay."
"The Laramie Project" is directed by Lee Margaret Hanson and Mara Palma, with set design by Nick Caisse, costume design by Laura Loo, and technical design by JD Sargent, in partnership with Center Theatre Group and with a sponsorship by Sony Pictures Entertainment. The show will take place Nov. 2-5, Thursday-Saturday at 7pm and Sunday at 2pm. Tickets can be purchased for $25 for general admission and $10 for faculty, staff, and CCHS students online at the AVPA website.