New Laws Passed on Hoverboards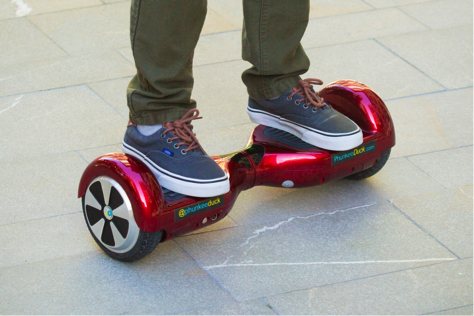 Motorized skateboards, hovercrafts, segboards, hoverboards, whatever you may call it, they have made an impact on pop culture and teenage lifestyle. Serving as the precursor to the levitating skateboards popularized in the well-known film Back to the Future, these boards have sprang up across the U.S and only seem to be multiplying.
The hoverboards have received a mass of both praise and criticism. The 8-inch WITECH hoverboard can travel quite fast, up to 13 mph (that's almost a sprinting pace). Celebrities like Mike Tyson and rapper Wiz Khalifa have caught on the trend, posting about their experiences on Instagram.
Hoverboards may be small but they are usually tricky (and painful) to ride at first. The best piece of riding advice came from CCHS sophomore and hoverboard owner Jacob Taylor-Rhodes: "Always remember to step off backwards and don't go too fast and you'll be fine. It eventually becomes pretty fun and easy."
With the commencement of the New Year, new bills have been approved and implemented regarding the boards. According to the California Highway Patrol, state law now requires users on bikeways to be at least 16 years old and wear the same gear required when riding a bike. Yes, that's right, you now need to wear a helmet if you want to ride on a hoverboard in public. Riders also cannot use sidewalks while operating a hoverboard and must have a source of lighting when riding at night.A fine for not following the law could make you pay up to $250.
"The laws don't really affect me," remarks Taylor-Rhodes about the new regulations. "I've only heard about a few of the new laws regarding hoverboards, but they aren't really enforced," he admits. He also points out the feeling of excitement while riding and the board's practicality over walking.
On a positive note, California has allowed riders to travel on bike paths and lanes. This will allow riders more space and the ability to pass traffic. Many will be satisfied knowing they can freely speed past slower pedestrians now that the bike lane is open.
There are still many questions about the future of hoverboards in our society and their current flaws.
Some can weigh about 30 pounds! That's a lot of weight for small-motorized board. Not to mention, quality boards can go for up to $7000. These boards can also spontaneously catch on fire from overeating while charging or in use. ABC News recently announced in mid January that a Fiturbo F1 hoverboard burned down an entire 1 million dollar Tennessean mansion while charging. Fortunately, there were no fatalities, but it is clear that the battery packs of some boards can spontaneously combust from overheating.
"It definitely looks fun to use" remarks CCHS physics teacher, Mr. Bakunin."It would be cool to try it out for a day, but I personally wouldn't spend my money on it. The board certainly has a lot of mechanical power and it can go pretty fast, but it seems a little dangerous to me; it's just not a necessity for me." He concludes that hoverboards are more of a "social status" indicator and have a market solely based for younger people.
Although its popularity has soared recently, we have yet to see how lawmakers will shape the future of the hoverboards.