The 76th Annual Golden Globes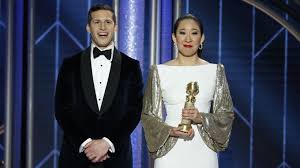 On Sunday night, one of Hollywood's biggest celebrations took place. The 76th Annual Golden Globes, hosted by comedic actor Andy Samberg and dramatic actor Sandra Oh, celebrated the achievements of filmmakers' 2018 productions. The night had many famous faces, great moments, and entertaining occurrences. There were many highlights during the event, mainly coming in the form of the memorable speeches and surprising wins.
Andy Samberg and Sandra Oh started the ceremony by "roasting" some celebrities in the audience, which included such gems as Oh's "Gina Rodriguez is here, which is weird because last time I checked she resided in heaven" followed by Samberg's "Sandra Oh? More like Sandra Oh Snap!" There were also some big name presenters like the stars of "Black Panther" and the comedy pair of  Amy Poehler and Maya Rudolph.
Some major wins included Rami Malek as Best Actor in a Drama for "Bohemian Rhapsody". His highly appraised performance brought a lot of critical attention. Lady Gaga won her first Golden Globe along with producer Mark Ronson for the original track "Shallow". Glenn Close's Best Actress in a Drama Motion Picture win was a surprise, even for the actress herself (as could be seen). Christian Bale took home Best Actor in a Musical or Comedy for his role as vice president Dick Cheney in "Vice." Jeff Bridges and Carol Burnett were both honored with lifetime achievement awards for their long-standing Hollywood careers. Despite some upsets and snubs (including Glenn Close's win over Lady Gaga) the biggest controversy was "Bohemian Rhapsody"'s win for Best Drama Motion picture over such notable films as "A Star is Born", "Black Panther", and "If Beale Street Could Talk."
The night was a major win for diversity and representation. Racially centered "Green Brook" swept several categories, taking home Best Screenplay, Best Supporting Actor, and Best Musical or Comedy Motion Picture.  "If Beale Street Could Talk", a monumental black love story, and "Roma", the story of a native Mexican, took home several major awards that brought forth several touching speeches. Regina King's win for Best Supporting Actress in Beale Street prompted her to praise the "Time's Up" movement as well as reveal that her son felt like he really saw himself on screen for the first time. "Roma" director Alfonso Cuarón used his Best Director victory to voice his pride in his Mexican heritage. Meanwhile, in her speech for Actress in a Drama Television Series, host Sandra Oh honored her Korean parents in her native language. She made history as the first Asian actress to win multiple Golden Globes as well as the first Asian actress to host them.
All in all, the Golden Globes brought some memorable moments. The films and television shows honored were all critically acclaimed, and the actors and actresses gave touching speeches and used their platforms to speak about topics close to their heart. The 76th Annual Golden Globes were definitely a highlight for the Hollywood world.