Super Mega Storm to Hit Cali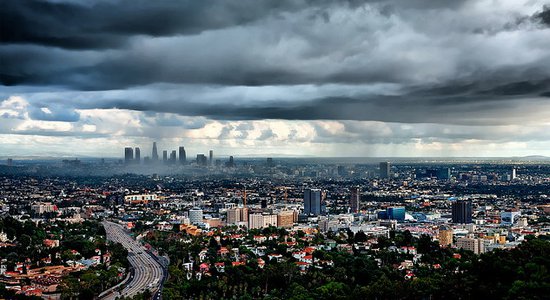 For many Southern Californians, it is worrisome to learn that predictions from many scientists and experts have shown that the recurring rainfall hitting the West Coast is only a premonition of what's to come. Not only has there been an increase in water filling the canals of the city of Los Angeles as a result of the prevalent rainfall, but also a sudden change in the weather all together.
California, still locked in a major drought, has certainly been impacted in numerous ways by the recent rainfall. This can be seen on not only the dry areas of the coast, but areas up north or even just California in general. Whether you're driving in the rain in the south, or waking up to find snow on your car in Beverly Hills, one can certainly see that something is definitely amiss with the weather.
The issue is not that it is rare for snow to be seen in the famous cities of Cali, but rather that it has been quite out of place. California isn't at a loss for snow, as seen around Big Bear and other mountainous areas. However, the fact that snow has been seen in more urban areas – areas where citizens aren't prepared for a snowstorm – has led many folks to see this as a source of concern. Of course, for Angelenos, the shock of seeing snow outside their windows wasn't entirely unexpected; just a few days before Los Angeles became a winter wonderland, snow was seen to fall in Las Vegas, leading many to suppose Armageddon, or "Snowmageddon", was upon them.
If firsthand reports of strange weather hitting the West Coast aren't concern enough, though, then maybe the predictions of top scientists will get your bags packed. Many Californians are concerned about the ever looming threat of "The Big One," but there's now a more pressing threat for the state that could do considerably more damage than the shifting faults.
What experts are referring to as the "ARk" storm, or atmospheric river storm, puts the West Coast in a difficult situation. The term "ARk" was coined by Multi Hazards Demonstration Project manager Dale Cox as well as scientist Lucile Jones. The atmospheric rivers that flow through the air in the form of vapor are the true cause of the dilemma to come. Once these rivers reach the ground, the rain will cause more property damage than "The Big One" could ever imagine. Many large cities along the ocean could ultimately disappear under  the heavy rain this storm of "biblical proportions" will produce.
Now, all of this already sounds very worrisome, but the worst part is that it is uncertain when the storm will ultimately arrive. Scientists say it could be next year or 120 years. No matter the timing, Californians will witness it firsthand. Let's just hope we're ready.