Community Input on Culver Cops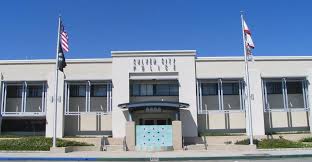 I think we can all agree that the world we live in today is a different place than it was at the end of 2019. Well, in pre-pandemic October, I and a few other students in ASB applied to become part of a committee being created by the Culver City Police Department. I didn't really know what it was about or what to expect but I figured it would be a great experience and opportunity to serve my community. 
Fast forward many months to July 2020, I get an email saying that I was selected to become part of CCPD's Chief's Advisory Panel (CAP). This news, in the midst of the aftermath of the murder of George Floyd, the ongoing Black Lives Matter movement and criticism of policing practices across America, was definitely interesting to receive. In June, as some of you may know, Culver City's City Council created a motion that described a 90-day deadline for the City Manager's Office to submit recommendations intended to achieve the reallocation of public safety resources under CCPD, with a goal of 50% reduction of the police budget. It's important to note that this 50% goal is in no way set in stone, merely an aspirational number. In order to make these recommendations, the Council indicated that CCPD requires community input. And that's where the Chief's Advisory Panel comes in. Alongside CAP, City Council is consulting with and gathering input from the General Plan Advisory Committee (GPAC), Government Alliance on Race and Equity (GARE), Financial Advisory Committee (FAC), as well as various targeted focus groups and labor representatives in Culver City. Furthermore, the City Council is consulting with a team of technical experts in public safety operations and management and race equity as they work towards making these recommendations. 
The Chief's Advisory Panel is made up of people from various backgrounds and intersections of the Culver City community. There are lawyers, attorneys, business owners, professors, CCUSD representatives and more. I have to say it's pretty intimidating being only one of two high school students on the panel. 
In the first few CAP meetings, Chief Manuel Cid and Assistant City Manager Serena Wright have addressed in depth CCPD's history with racism and racial discrimination as well as the structure of the police department and where resources are currently being allocated. Additionally, the meetings allow a good amount of time for members to express their concerns, questions and opinions. As a student at CCHS as well as a fairly new resident to Culver City, these meetings are very interesting and informative. 
In order to get a better understanding of the community's interactions with the police, the City Council released a community survey. The results of this survey will be publicly presented on September 17th in a meeting with the CAP and General Plan Advisory Committee (GPAC). The survey is available in both Spanish and English and can be found at https://www.surveymonkey.com/r/CulverCityPublicSafety. 
In closing, as a representative of Culver City High School on this panel, I feel obligated to update all of our students on what is going on regarding this situation so please feel free to contact me with any questions and/or concerns at my student email [email protected].