Sisters in Swimming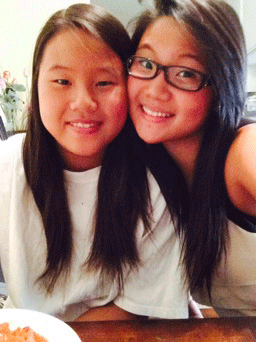 As typical Americans, most of us have siblings, and those siblings are the ones who drive us crazy and keep us stable, sometimes simultaneously. Uniquely, we also live in one of the few nations made up almost entirely of immigrants, and within the diverse bubble of Culver City are two sisters who are no stranger to this. Papawee and Natwara Sutthirat have been together through all the difficulties of moving to a whole other world, and now they both play for the varsity water polo and swim teams.
Papawee, a junior who goes by "Ice" because of the difficult pronunciation of her born name, moved to the United States from Thailand when she was only eight years old in April 2007, with her mother, two sisters, Natwara (a year older), and 3 brothers. "It was new and interesting at first because I was lost and didn't know what was happening around me. And now it's amazing and I'm used to it. [Natwara] was the only one who understood me and we were going through the same situation…" she said of the journey. For years the family moved around to various cities in Southern California before finally settling in Culver City in 2011.
Both sisters have been on swim teams since their move, and this year, they are playing together at the varsity level. Ice's best strokes are back stroke, at 50 meters in 28.2 seconds, 100 meters in 1 minute and 3.56 seconds, and free-style, with 50 meters in 27.89 seconds. Natwara also specializes in free-style with 50 meters in 28.99 seconds, and long distance breaststroke at 100 meters in 1 minute and 18.45 seconds. As they warm up for water polo season in the next three weeks, Ice described having her sister there as enabling them to "motivate each other to do [their] best to never give up when it's hard." Since she is coming out of a JV team who only lost one water polo match last year, that motivation could lead to qualifying for the CIF championship, which the girls varsity water polo team has made it to for the past 3 years.
Both have similar goals as well. Natwara, who has already sent in her college application, and Ice both cite UCs Santa Barbara, San Diego, and San Francisco as schools they'd like to attend. While Natwara plans to attend medical school, Papawee would like to be a chemical engineer. They may not always be together, but for now family and passion for their sport keep them bonded tightly.