Gavin Newsom Visits Culver High
Democrats hold rally at Culver High 10 days before recall election
On Saturday, Sept. 4, California Gov. Gavin Newsom, along with other prominent Democrats, visited Culver City High School as part of his campaign against the recall election. At the rally, Newsom was joined by Sen. Elizabeth Warren, Congresswoman Karen Bass, California Assembly Member Isaac Bryan, Mark Gonzales of the Los Angeles County Democratic Party, Sen. Sydney Kamlager, Jodi Hicks of Planned Parenthood, and his wife, Jennifer Newsom. The common theme throughout the speeches was to vote "no" and leave the second question blank, which asks for a replacement candidate if Newsom were to be recalled. 
The band and cheer started the day by hyping up the crowd, and was followed by Katelyn Carrera, president of Culver City High School ASB, who kicked off the speeches by introducing Mark Gonzales.
"I feel very inspired by what Governor Newsom and Senator Warren said. It was pretty amazing," said Carrera, who had just moments earlier met Gov. Newsom and Sen. Warren before going on stage to welcome everyone to the rally.
Along with the band and cheerleaders, thirty student leaders from Culver High were also given the opportunity to attend the rally. These were students from various clubs and organizations in school who got to meet Newsom, Warren, and other political leaders.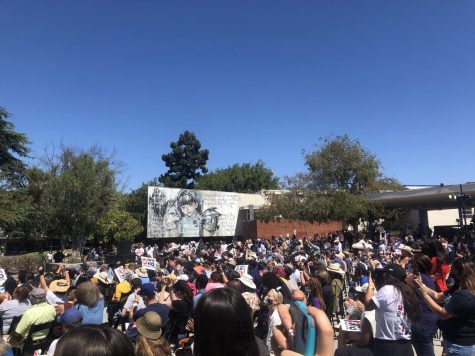 Delina Melaku, vice president of ASB, who was one of the student leaders that attended the rally said, "It was an interesting experience to be a part of a political rally and to witness the language and tactics used in partisan politics."
Many were surprised that Culver City High School was holding a political event, especially on such a controversial topic. The event was organized by Newsom's campaign and was a Democratic centered event. 
When asked how he felt about Culver High having a political rally on its campus, Culver City Mayor Alex Fisch said, "My understanding is that any organization can use the high school if they go through the right channels. My understanding is that the campaign did … so I am thrilled that Culver City can host this." 
The recall election, which will be taking place on Sept. 14th, will be the second time that a recall for a California governor will have reached the ballot. The first time was in 2003 when former Gov. Gray Davis was successfully removed from office and replaced with former Gov. Arnold Schwarzenegger.
If you are 18 or older, do not forget to vote. Mail-in ballots have to be postmarked by September 14th and voting locations are open from 7am to 8pm.
 More information on the California Gubernatorial Recall Election can be found here: https://www.sos.ca.gov/elections/upcoming-elections/2021-ca-gov-recall.