Welcome Ms. Tamura!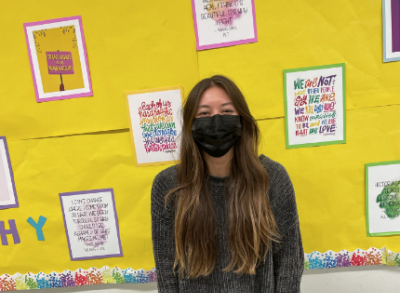 This year's new addition to the CCHS teaching staff is Ms.Kalena Tamura. She teaches English 9 and English 9 Honors in Room 78. This is Ms. Tamura's first "official" year of teaching. She is originally from Los Angeles, but attended UC Santa Barbara, where she student-taught for a year before moving back to the LA area. 
She is really excited to form new bonds with her students and is glad to be able to finally teach in-person. In her class, students learn about literature and grammar in a variety of creative ways. She holds weekly grammar lessons and even debates from characters in literature from their points of view. 
"I feel really supported by the other members of the English Department's teaching staff, which is wonderful," said Ms. Tamura, in regards to her experience with CCHS so far. She's glad to be able to do activities that weren't necessarily possible over Zoom, especially those that are more interactive and expressive, like role-playing. 
One activity that is always part of her teaching agenda are the daily writing prompts. Every class starts with about ten minutes for students to write as thoughtfully and as much as they can about a certain topic. She explained that these are a great way to "connect content to students' real lives." She also noted how much she loves reading her students' responses.
CCHS is so excited to have a teacher as kind and creative as Ms. Tamura.