Fiesta La Ballona 2021: Halloween Extravaganza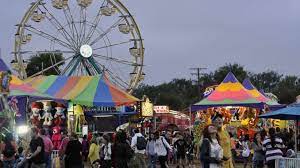 Lily Maxson, Media Editor and Publicist
October 30, 2021
Fiesta La Ballona will take place the weekend of October 29th- October 31st, and there are some new and exciting differences from the annual carnival we as a community have come to know and love. For the first time since the establishment of the event in 1951, the fiesta will be a Halloween extravaganza, with many new spooky aspects to look forward to. Unfortunately, due to the pandemic, the fiesta was not able to safely take place last year. This year, however, the carnival cheer is scheduled to make a reappearance thanks to Covid-19 guidelines- and there is a lot to look forward to!
As usual, the event will take place in Vets Park, located on Culver and Overland. The hours are as follows: Friday 4:00pm- 10:00pm, Saturday 11:00am- 10:00pm, and Sunday 10:00am- 7:00pm. 
For unlimited access to rides, wristbands are a great option! They became open for purchase on October 11th and will continue to be sold leading up to the event for a price of $31.20. Wristband vouchers can be picked up at the Veterans Memorial Center before 10/28 or at the information booth during the event. 
There will be a variety of food, games, vendors, and entertainment. Notable events include an AVPA performance and a "scaryoke" event in which attendants can sing karaoke along with their favorite Halloween songs. 
Keeping with the spooky theme, there will be three contests for guests to compete in. These contests will serve as a fun interpretation of traditional Halloween festivities, including scarecrow decorating, pumpkin carving, and a costume contest. Participating in these activities will be a great way to take part in the festive spirit of October, winning prizes along the way.
In the past, Fiesta La Ballona has served as a source of many positive memories and a fond part of the Culver City community. With many new activities to choose from, its reappearance is sure to make an impact once again!
For more information, visit: https://www.fiestalaballona.org/ .