What to Do on Halloween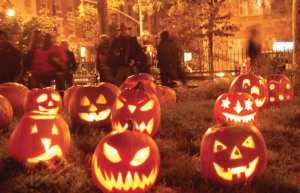 Halloween is right around the corner and you know what that means; it's time to celebrate. If you're not sure how to celebrate, we have some ideas:
1. Watch Horror/Halloween Movies
If you're in the mood to be scared or want to watch a classic, horror movies or dark comedy movies are always great choices. Go ahead and check out some of the films below. Some are unintentionally good in a campy way, while others are timeless classics:
The Nightmare Before Christmas

-1993

Halloween

-1978

Friday the 13th

-1980

The Worst Witch

-1986

Frankenstein

-1931

Nosferatu

-1922

The Addams Family

-1991

Nightmare on Elm street

-1984

Child's Play

-1988

The Blob

-1958

Scream

-1996
2. Create a Halloween Playlist/Mixtape
If you love Halloween and also have a passion for listening to music, make a playlist with some spooky songs to get you into the Halloween spirit! Then, play it whenever you'd like, either with a group or by yourself. It could contain songs from musicals such as The Nightmare Before Christmas or just any songs that fit the Halloween spirit.
3. Make Halloween-themed foods
If you're especially into the Halloween spirit, you can also follow baking tutorials online to make Halloween-themed foods. You can frost cookies with spiders on them or even make your own twist on witches brew, which is a Halloween punch recipe made with lime sherbert, ginger ale, and pineapple juice. You can even serve food in faux cauldrons or make bowls shaped like Jack-o'-lanterns!
4. Jack-o'-lanterns
Speaking of Jack-o'-lanterns, we can't forget one of the most popular Halloween traditions, carving pumpkins! The steps are simple:
Take the pumpkin seeds out

Draw a design on the pumpkin or take a template from online

Get your carving material (small paring knives work best) and cut while following the design

When night comes, put a candle inside of it
5. Watch Horror TV shows
If you want to watch shorter episodes instead of a full movie, we have some great recommendations:
The Muensters

-1964

The Addams Family

-1964

The Twilight Zone

-1959

Gravity Falls

-2012