Love Notes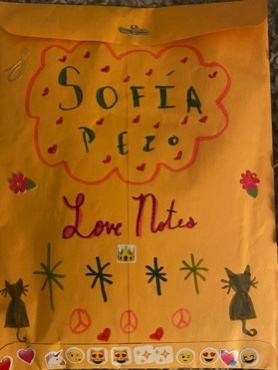 Somewhere in my room is a large manila envelope with my name written in large, green letters. It's been a while since I opened it, but every time I do, tears immediately start pooling in my eyes. Happy, nostalgic, bittersweet tears because inside the envelope are love notes letters — of love and appreciation — from friends I made at the first sleep-away camp I ever attended almost four summers ago.
The camp had a special, longstanding tradition where everyone received an envelope on the first day. We wrote our names on the front, decorated them, and taped them onto the doors of our rooms. We also got a list of the names of all the people at camp, as well as small pieces of colored paper, the kind you'd use in arts and crafts. Our job — well, the tradition — was to write a note to everyone at camp or as many people as we wanted to. These weren't your ordinary, bleak "I love your outfit" or "You're so pretty" notes. These were letters written to emphasize how much we appreciated them, how much they meant to us, and what we learned from them. For example, someone could say, "I remember how nervous you were before the talent show, but you sang that Bruno Mars song beautifully. I'm so in awe of your courage!" 
Throughout the two weeks we were at camp, we would drop off these love notes into each person's envelope. The best part, and my favorite part, was on the last day of camp when we took our envelopes down. We had sworn on the first day that we would not open the envelopes or read the letters until after we had left camp. So the day I got home after camp ended, I opened the envelope and almost immediately started crying. Reading the notes brought a surge of emotions I couldn't explain. I couldn't believe just how much my friends meant to me, even though I had only known them for two weeks. 
I've recently begun to keep the tradition going. Last summer, I wrote love notes to all the girls in my cabin at camp and handed them out on our last day. This year, I've decided to celebrate Valentine's Day by writing love notes to my friends. My friends have always meant the world to me. For so long, I wanted to kick myself for not letting them know before the pandemic started. It hurt to not be able to see them for a year and a half. I don't think anyone ever realizes just how much their friends mean to them until they're separated. But Valentine's Day for me has always been a day of celebrating my friends, my family, and everyone else I love, so what better way to celebrate than by keeping the tradition alive?
So I'm here to encourage you to write some love notes this year for Valentine's Day. They don't have to be long or detailed. You don't have to go on and on about how much you love them, unless you want to. Speaking from personal experience, as long as you write truthfully and from the heart, they will mean the world to the person you write them for. Plus, the best part is their reaction to the letter. Maybe they'll hug you or grin or even tear up. And isn't that just the best and most rewarding feeling ever?
What do your friends and loved ones do that make you smile? How much do they mean to you? If you could tell them anything about how much you appreciate them, what would you say? Let them know.
 From me to you, Happy Valentine's Day.