ASB Elections: 2022-2023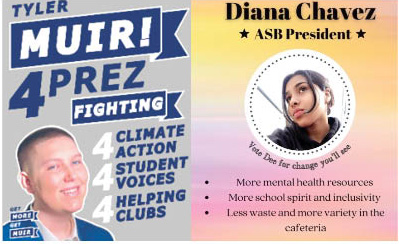 It's that time of year again when CCHS students get the chance to elect their peers for leadership roles. Beginning  Monday, April 25th and continuing through Friday, April 29th until 3:30 pm, ASB (Associated Student Body) is holding elections for roles such as president, vice president, secretary, and various other commissioner and ambassador positions. Students who are running for office will be giving their campaign speeches throughout the week during lunch, in addition to many candidates sharing their platforms online via social media. 
Diana "Dee" Chavez (@dianaachavezz) is one candidate with the possibility of becoming ASB President next school year. "One of my main goals as president would be to increase the mental health resources and care for our students," said Chavez. In addition to her concern for the mental health of her classmates, she is passionate about the physical wellbeing of athletes. A major part of her campaign is increasing access to physical therapy and nutrition information to sports players and other students alike. She also wants to see change in the cafeteria, whether that be reducing plastic waste or reopening the snackbar. "I want to provide more vegan and vegetarian options, and better protein options in general," she said. Lastly, she wants to foster attitudes of school spirit and inclusivity in our school community. 
Tyler Muir (nottylermuir) is running against Dee Chavez for the role of president next year. He is passionate about climate change issues on a local level, and wants to see climate advocacy have a greater presence at our school in the future.  One main focus of his is giving a voice to students and making sure everyone at school can feel heard by both the student body and administration. "I want to make more public and anonymous avenues for students to express their concerns to ASB and have those concerns executed upon," said Muir. Additionally, he plans on introducing even more integrated activities among clubs and student-lead organizations on campus. He is passionate about getting ASB students involved in important events, making it so that each club has dozens of honorary members at their disposal. "I want to make sure that every club president knows that they have the full force of ASB behind them," he said.
Anthony Prieto (@sir_anthony_prieto) is a candidate for the role of Vice President. He has past experience in class council as well as ASB positions. "I heard he was a really great sophomore vice president last year," one student said. "I heard he's a great commissioner of activities. He works super hard and super efficiently," said another. Prieto's platform includes setting new, realistic goals with both the school board and administration. Moreover, he is focused on rebuilding student-teacher relationships. He plans on achieving this by promoting activities involving both groups, strengthening that bond. 
Alyssa Daggett (@alyssa_4vp)  is also running for Vice President next year. She, too, has experience with student body, having been a member since middle school for a total of four years. She has heard concerns about a disconnect between students and ASB, and wants to form a bridge between that gap in order to create a more conducive learning environment. If elected, some issues she plans to address include Go Guardian, security guards, homecoming sales, and plastic in the cafeteria. "The vice president must be hardworking, confident, passionate, and mostly importantly able to listen and advocate for students. I have all of these qualities," Daggett said. Her ultimate goal as vice president would be to "put student voices back in the picture." 
Gavin Rizzo (@gavin_4_vp) is the third and final candidate for the vice president position for the 2022-2023 school year. Following  years of the pandemic and online learning, he wants to reintroduce new and interesting events to get students excited about coming back to school. Furthermore, he aims to improve the quality of life at CCHS. He hopes for a greener, cleaner campus with stricter policies on vandalism. In addition to this, he wants to improve Go Guardian to be less invasive for students. Like many other students running for office, Rizzo would like to see more meatless options in the cafeteria. Finally, he wants to collaborate with school groups and clubs. "There are many groups on campus with big goals, like the Vote 16 club or the Green New Deal. These groups have been largely working independently, but I want to work with these groups, clubs, and programs as vice president to create a more collective student body and to help complete goals we can be happy with," said Rizzo.
Other ASB positions that students can vote on in this week's election include commissioner and ambassador roles, secretary, and more!
The Secretary works to keep records of all meetings and committees, as well as acting as lead communicator for ASB.
 The Commissioners of Activities work to organize all clubs and lead activities. The candidates this year are Camilla Huntley and Genesis Amaya.
The Comissioners of Athletics work to organize senior nights, athletic signings, Homecoming halftime shows, and other sporting events. The candidates this year are Nina Kumar, Eden Rees, and Hambee Makinoda. 
The Ambassador of the Arts works to publicize and support CCHS artists, produce the talent show, and collaborate with AVPA departments. The candidates this year are Nazira Paul and Grace Erekson. 
The Commissioner of Publicity works to manage the ASB instagram account and publicize school events. The candidates this year are Duru Kavukcu and Jolie Tsai.
The Sustainability Coordinator works with the district sustainability committee on the Green New Deal. The candidate this year is Zineerah Siddique. 
The Student Board Member works to attend school board meetings, vote on specific measures, and participate in CCUSD committees while acting as a voice for students. The candidates this year are Fernanda Vides and Sarah Phyu.
Culver City High School students should recognize the importance of the current election and use their vote wisely in order to make their voices heard. ASB leaders serve as representatives for students as a whole, and enact change accordingly based on the needs of their peers. Voting can be done via this google form: https://forms.gle/qmtA7QdQMiqpHpk27