Student Film Receives International Recognition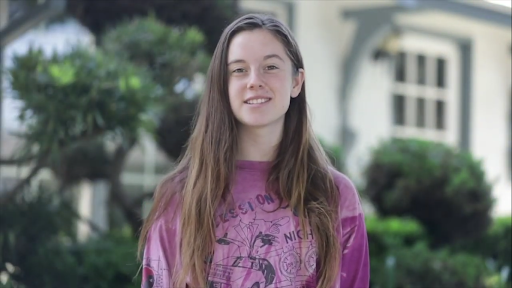 An uplifting student film created by film and theater students in Culver City High School has recently received international recognition. "Reflections" is a student-made film showcasing the social difficulties teenage girls often face in today's society. This profound film draws attention to and refutes gender norms that leave impressionable girls feeling constantly inadequate. From the simple, genuine imagery of CCHS girls to the embracement of diversity in all forms, "Reflections" leaves a lasting impression on anyone who watches it.
Originally written as a poem of sixty-nine empowering lines, it was converted into a film with the help of AVPA teachers. There is meaning to be found within the clever rhyming and eloquent syntax. The lines begin in a tone of despair and frustration, voiced by a young girl stuck between "good and not good enough." The author, Ginger Anderson-Willis, was inspired by the "limitations, the foundations for everything we know. Rules and regulations, coming without explanation, passed through generations."
However, the end of the poem turns around with a pervasive tone of self-love and defiance. When asked what prompted her to write "Reflections", Ginger replied, "I wanted to uplift women because they shouldn't feel small and have to fit in a box." Young women are often told a million different things to be, Ginger said, and she was unhappy with the unrealistic and harmful standards for women that are often deemed "normal".
A key factor of this film was the all-female cast. The cast and crew ended up being composed of twenty-eight female Culver City High School students, as many girls at CCHS felt that they experienced similar hardships and therefore wanted to participate. 
"It was very cool to have it be a full female cast and crew, especially because I feel like the film industry is unspokenly male dominated," said Melody Caudill, who wrote the score for the film. 
Many other participants also had great things to say about working with Ginger and everyone else involved while in the process of bringing the film alive. Lee Hanson, the director, was happy to see their vision "celebrated, and heard, and seen." On the topic of choosing actively to not participate in the system, Hanson insightfully added, "I wanted people to see how strong and beautiful women are. I also wanted to be able to display how wonderful the community of females in this school is." 
Holly Gable, the director of photography, mentioned that she was "blown away" by the message they were able to create as a collaboration of strong women.
Despite difficulties like safely filming and social distancing during the COVID-19 pandemic, the film turned out to be a great success. "Reflections" was a winner at the Cannes Short Film Festival in "best short short," as well as the Jury Choice Award at the Moving Parts Film Festival. It was also deemed Official Selection at establishments such as Sydney Women's International Film Festival, New York Movie Awards, and Indie Short Fest. Most recently, "Reflections" was selected for the Femme Fatal Film Festival.
"It's really special that it's being appreciated not just nationally, but internationally. It just goes to show how relevant the message is globally and not just in Culver City. Women all around the world are facing all different forms of oppression," Hanson said.
The student film "Reflections" has made a big impact on the way teenage girls at CCHS  think of themselves, and replaced the negative implications of fatphobic or degrading ideals with messages of positivity. According to Holly Gable, "It brings almost every woman and girl to tears when they see it for the first time. [We all were] very moved." 
In a world that is seemingly overcome with misogyny and unrealistic expectations, "Reflections" comes as a refreshing representation of women, filmed in a way that reminds us all that we are valid in our own, unique way. 
Said Ginger Anderson-Willis on the capabilities of girls everywhere: "We are not just bodies, but also ambitions, intellect, and strength."