Students Organize Socially Distanced Protest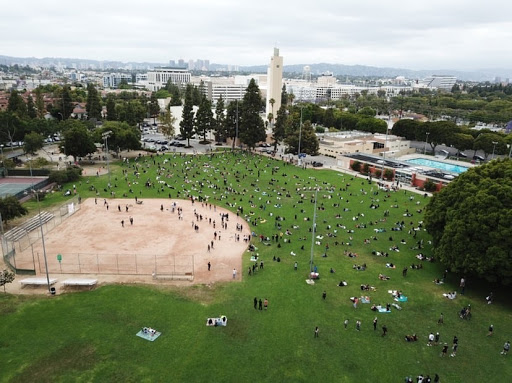 On June 5, as the bells of Veterans Memorial Building chimed noon, an estimated 300 people gathered at Veterans Park to peacefully show their support for the Black Lives Matter (BLM) movement. The unfortunate timing of this demand for social reform with the COVID-19 pandemic has led many to refrain from publicly showing up to protest. This particular demonstration was targeted at those community members who were concerned to join in for fear of spreading or contracting the virus, leading to many safety measures being put in place.  
It was a beautiful sight to see families, elders, children and many students from the high school safely gather at the park, respecting the precautions. Everyone was separated six feet apart by markings on the grass and wearing masks. Similar to other ongoing protests, the goal of this gathering was to "get politicians to realize what change needs to be made [and] kickstart some damn reform in our oppressive and racist justice system," as protest leader Abigail Cregor put it. Cregor is a student at CCHS and with the help of her peers they organized this completely student-led event. 
Several student speakers from Black Student Union, including Savannah Smith, Ameerah Brown, Dialo Drati and Imani Lowe came to share some of their thoughts and experiences to bring awareness. Then it became an open mic for anyone to share. Some expressed themselves in song, others with tears in their eyes as they spoke strongly of the problem at hand. 
The event also had tables set up at the perimeter of the field. One was dedicated to voter registration, another to donations, and one to informational flyers. 
CCHS students Sami Shanman and Maya Raval helped eligible voters register and pre-register to have their voices heard in upcoming elections. At the donations table, CCHS alumna Celine Cuadra began the event by announcing a goal to raise $500. Just a half hour later, however, donations had already reached $5,000 and by the end of the event they ended up raising a total of $20,000! This money would be sent to different national organizations fighting for the BLM movement. 
When the demonstration was over, we were asked to pick up flyers with information about different cases of police brutality on the black community to put up in our neighborhoods and bring more awareness. Starting at Veterans Memorial Park and spreading out to all of Culver City, this event aims to spread awareness and support for the BLM movement and bring about some much needed change.