Last Minute DIY Halloween Costumes
We get it. Homework, friends, ig, snap chat, life, you're stressed and don't have enough energy to come up with a clever, cheap and not-too-dorky… (maybe a little)… Halloween costume in less than a week.
In case you need help, here are 10 easy, last-minute, DIY Halloween costume ideas, ranging from dorky to cool.
Gum Ball Machine or jelly bean bag

Get a translucent trash bag and fill it with some colorful balloons, cut 2 small holes in it for leg holes, use the trash bag's handles as straps, and put on a red beanie for the gum ball machine (not needed for the jelly bean bag). Put on some pants, red for gumball machine, or black for jelly bean bag, and print out a Jelly Belly label to stick on the front of the bag.


Thing 1 and thing 2

Here's an idea that's fun to do with a sibling or friend. Get a red shirt, black or red pants, cut out a circle piece of paper, and write Thing 1 or Thing 2 on it, then stick it onto the shirt with safety pins, a stapler, or duct tape, or glue. If wanted, you can also put on a blue TooToo or short skirt.



Minion

It's pretty simple. Put on a yellow shirt, get some overalls and goggles. Then cut out an oval piece of paper, write a 'G' on it, then glue, tape, pin, or staple the paper onto the overalls.







zombie

First, put on some pale foundation and concealer, then find some fish net and green eye shadow, put the fish net on each cheek and brush on some eye shadow to make a scaly pattern. Smudge some lipstick, and mess your hair. Brush on some darker eye shadow around your eyes two create a caving effect. Then for extra pizzaz, draw an inch-long stripe of red lipstick on your cheek, neck, or arm, then put some glue stick bits and stick them on the edges of the stripe to look like skin from a cut, and paint a bit of concealer or foundation, and some pink blush around the 'cut' to add depth. Finally, put on some jeans with tears and a torn shirt.



Frida Khalo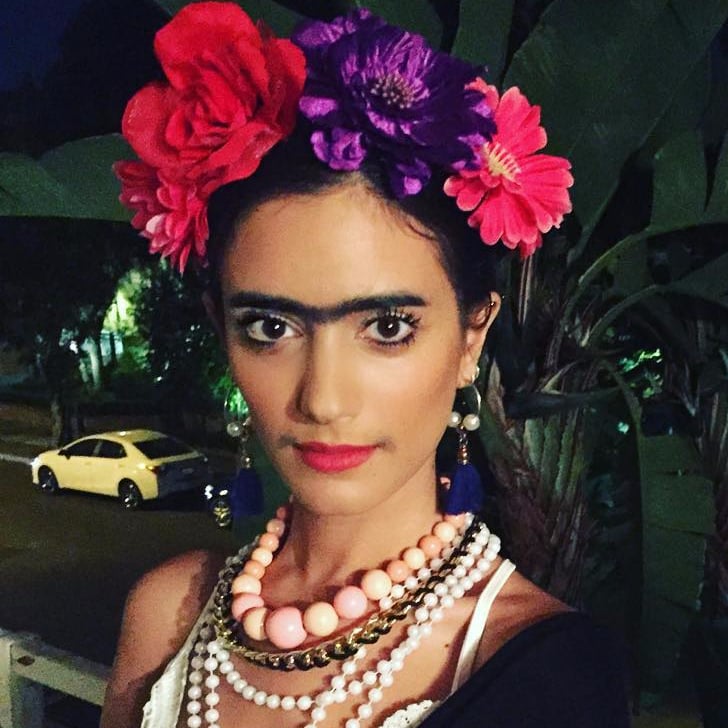 Put on a dress, draw on a uni-brow, put some flowers in your hair. Put on some earrings and funky necklaces, then  apply some lipstick and you're set.




Lumber jack
Get out some flannel from last season, a beanie, a pair of suspenders, jeans, and a pair of hiking boots.







mime
Put on a black and white striped shirt, black pants, optional suspenders, and a black hat.




A Cat
Wear all black, paint on some whiskers and a dot on your nose, put on cat ears and you're set.



rosie riveter
Girl power! Tie a red bandanna around your head, put on some jeans and a sleeved button-up, your favorite red lipstick to match, and roll up those sleeves.



Scuba diver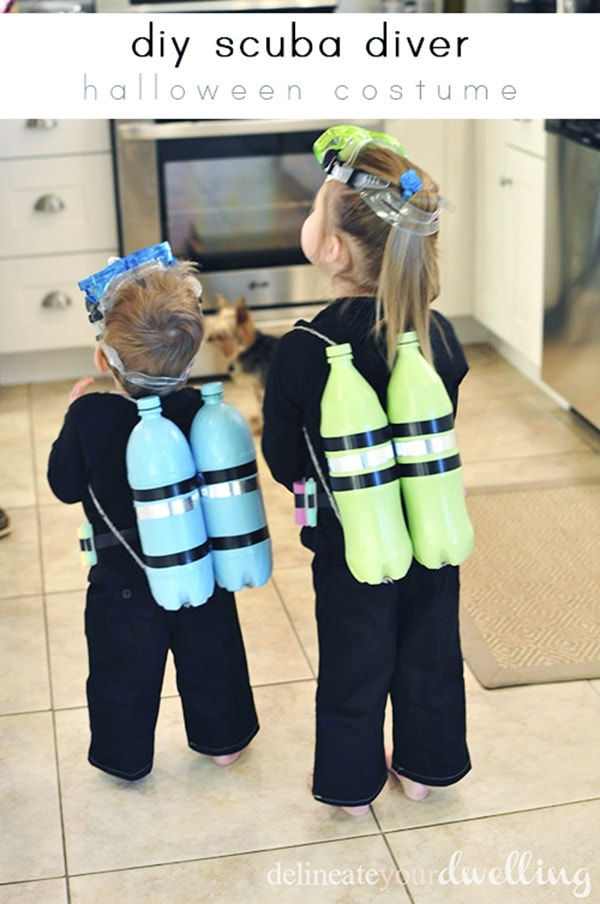 Get 2 large Coca Cola bottles, tape together the empty bottles and take off the labels. Then, double-over 2 strands of duct tape for straps that should be long enough to go under and over your arms. Take the first strap and attach it to the top of the bottle, then the bottom part of the strap to the bottom of the bottle, and the same thing for the other side.


Happy Halloween!