2018 Grad Night: California Adventure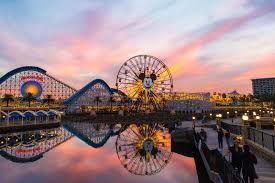 For those unbeknownst to the event, Grad Night is a memorable night for seniors to enjoy and wind down before their big graduation day. In the past, Culver City High School has celebrated Grad Night at Disneyland and California Adventure in Anaheim. However, this year, seniors have been acquainted with an unfortunate change. This year, Grad Night will only take place at California Adventure and the park hopping between Disneyland and California Adventure will not take place. This has caused many to be upset amid the anticipation for Grad Night.
Although this news may be upsetting and disappointing, it was in fact done to benefit the seniors. Assistant Principal, Ms.Tarvyd, explained that the pricing range for Disney Anaheim's parks differ each year. This year, the ticket prices went up significantly leading the school to select only California Adventure as it would be less costly for both students and staff. With the class only attending California Adventure, the school as a whole can afford pricing for the park as well as buses and other necessary accommodations. The decision to do this was agreed upon between Ms.Tarvyd and the senior class president, Hayley Yamamoto. Although it was a tough decision to make, they felt it necessary for Grad Night to continue being in Disney Anaheim as a custom along with a fair price for everyone.
The decision resulted in an uproar among many seniors as they would not be able to hop around between both parks. They also felt that the change should have been put to vote as they believe that students are willing to pay more towards the experience of going to both parks.
Despite this change, many seniors are still looking forward to Grad Night, as it is a memorable experience. Ultimately, Grad Night will only take place in California Adventure this year but the festivities will still continue.