Centaurs Eye CIF Title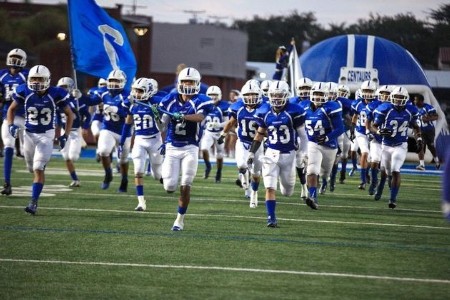 Culver​ ​City's​ football​​ ​team,​ although​​ ​coming​ short​ of​​ ​an ​​Ocean ​​League​ ​title,​ has​​ ​its​ ​eyes set​ ​on​ ​a​ ​greater​ ​prize;​ ​a​ ​CIF​ Southern​​ ​Section​ ​Championship.
​​Despite​ their​​ ​historical ​success​ ​in football, ​​Culver​ hasn't​​ won​ ​CIF ​​in​ ​nearly​ ​40​ ​years.​ ​However, ​this​​ ​year's ​team​​ ​is​ ​looking​ ​to change​ ​that.​
The​​ ​journey​ ​to​ ​the​ ​title​ began​ ​last​ ​week​ ​against​ ​Heritage​ ​Christian​ High​​ School,​​ ​as the ​Centaurs​​ won​ ​24-8​ ​in​ ​the​ ​first​ ​round​ ​of​ playoffs.​ Even​ without​ ​senior​ quarterback​​ Jonathan​ Martin, ​the Centaurs​ played​​ ​an​ ​all-around​ great​​ game,​​ and​​ came​ out​​ ​with​ the​​ ​win. ​​Due ​to​ Martin's absence​ ​the​ ​entire​ ​team​ ​needed​ ​to​ ​step​ up ​and​ did​​ ​so.
​​Culver,​ ​ranked​ ​#1​ ​in​ ​CIF​ ​Division 11,​ ​has​ ​constantly​ ​dominated​ ​on​ ​both​ ​sides ​of​​ the​ ​ball​ ​all ​​season,​ ​particularly​ ​in ​​recent​ ​weeks. Since​ ​their​ ​loss​ ​to​ ​rival​ ​school​ ​Lawndale,​ ​the ​10-1​​ Centaurs​​ ​have​ ​not​ looked​ ​​back, ​by​​ outscoring​ opponents ​​162-8​ in​​ ​that​ 4​​ ​week​ ​span, ​and​​ ​look ​better​​ ​than ​​ever.​ ​
With​ ​plenty​ ​of​ ​momentum, Culver​ City​​ will​​ ​face​ ​Coachella​ ​Valley​ ​High​ ​this​ Friday​​ in​​ ​the​ ​quarterfinals​ ​of​ ​CIF​ ​playoffs.