The Spot Cafe: Opposite of Corporate and Epitome of Cozy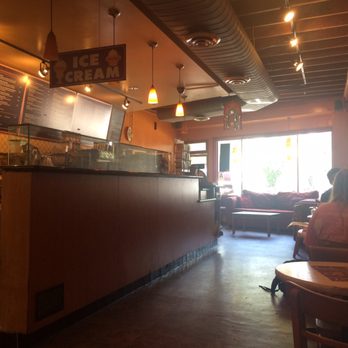 Did you know that just down the street from CCHS is a cafe that's perfect for your after school snack needs?
The Spot Cafe and Lounge is located at 4455 Overland Avenue, and instead of shuffling through a chain like you would at Starbucks, you're greeted with a warm smile and a welcome. If you're a regular, the employees likely know your name and your order. It's the opposite of corporate and the epitome of cozy.
The unique name "The Spot" was actually a popular customer suggestion from when the cafe first opened its doors about ten years ago. Currently, it provides a variety of foods and a large selection of drinks to its customers, including many students.
Some of the food options include breakfast foods, baked goods, sandwiches, and paninis. They make some of the foods, like the paninis, fresh right after you order them. If you don't know what to order, one of the more popular choices is the Italian Chicken Panini. Daily specials are also on the menu.
There's a spectrum of caffeinated drinks, teas, milkshakes, and smoothies as well as others. The Spot has a notably flexible smoothie menu, as you can get a variety of flavors in slush, smoothie, or milk tea form. It's also possible to order your drink with boba, making for many different combinations. The boba is made fresh every morning by the owner, Jim Park. If it's on the way while walking home, a drink is a good-to-go option.
The Spot is a great place to take a moment to breathe and take a break from the hectic bustle of school with your friends. There's tables and a couch area inside, and some outdoor seating with umbrellas. Or if you need to get assignments done, it's a good setting to do work on your laptop with a comfortable atmosphere.