A New Look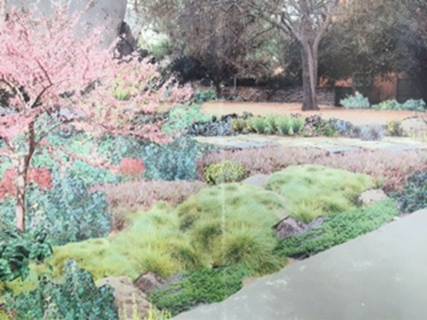 The front of the Robert Frost Auditorium will soon have a new look. An outside organization is working with a group of students and teachers to create a sustainable garden at the entrance to the building.
"It will be fabulous," Interim Principal Lisa Cooper said. "There will be benches, walkways, and nice plants," she said.
West Basin Water District has designed a sustainable garden so they could prevent rainwater from going into the gutter. When the rainwater hits a roof or parking lots, that water is not reusable and that water goes into La Ballona Creek and then into the ocean. With this sustainable garden, the garden will absorb the water and save a lot of water. They also already have five staff members on board: science teacher Patricia Northington, Spanish teacher Jose Montero, counselor Daniel Fagas, ceramics teacher Craig Wisner, and math teacher Tushar Dwivedi. A local parent volunteer, Shea Cunningham, is also involved in the garden. The students involved are the class councils. There was a one day presentation on October 29 to have garden training. "We're going to make it appeal to the scenery of the school and community," Cooper said. There isn't an exact date on when it will be finished. It will take six months for the plants to bloom.
"I'm just very excited about it. It will be good for the students and for the teachers," Cooper said.
Salma Abdelsamad, a member of the freshmen student council, thinks that the garden is a great idea. "We will make it California friendly," she said. The student council have only had one meeting so far. The next thing the student council will do is go where the future garden will be and plan.