In His First 100 Days Biden Has Brought Normal Back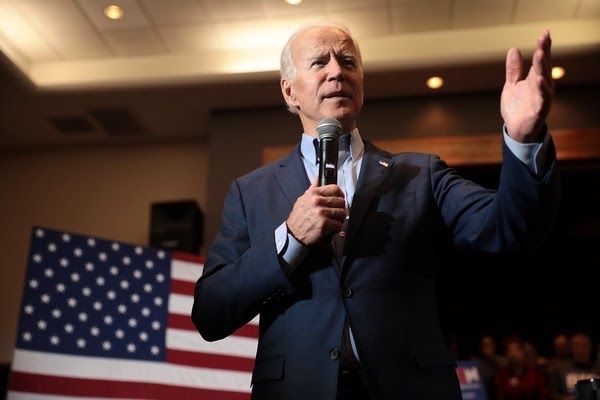 President Joe Biden's first 100 days in office has certainly given Americans a fresh perspective on U.S. leadership. After a hectic four years headlined by former president Donald Trump's abrasive personality and frequent use of Twitter, Biden's calmer and more conventional approach has been refreshing for those looking for normality and professionalism. Biden's quieter style, however, has certainly not been reflected in the actions he has taken as president. 
Signing more executive orders in his first 100 days than the past three presidents in this time span in office, President Biden has issued 60 executive orders with 24 of them a direct reversal of Trump's policies. These orders have aimed towards addressing COVID-19, immigration, the economy, equity and climate change, among others.
Biden has prioritized focusing on the coronavirus pandemic. With 13 of his 60 executive orders targeting this issue, these orders reflect a significant turn from the Trump administration's response towards COVID-19. Two primary executive orders on the pandemic, both of which were signed on his first day in office, have mandated face coverings and social distancing on all federal property and halted Trump's original decision to withdraw the US from the World Health Organization (WHO).
However, arguably more influential than these executive orders has been Biden's public attitude towards COVID-19. Biden's decision to often double-mask despite being fully vaccinated has drawn criticism as it contrasts with the CDC's recent message that fully vaccinated individuals do not have to wear masks in most outdoor and indoor settings. However, with much of the American population still not vaccinated and the pandemic not yet at an end, Biden's mask wearing serves as a standard that all presidents should hold — that is, modeling the behavior that most of society should continue to uphold.
In addition to tackling COVID-19, the president has also worked towards improving the economy, which has majorly suffered through the pandemic. Biden's $1.9 trillion American Rescue Plan has been beneficial for Americans during the pandemic. The plan provides funding for further stimulus checks, unemployment benefits, housing aid, and the safe reopening of small businesses and schools. Shortly after signing this plan, Biden proposed a $2.3 trillion American Jobs Plan to address the country's infrastructure, which the White House commonly cites as ranking 13th worldwide. 
Based on Republicans' traditional definition of infrastructure, which includes roads, bridges, waterways, ports and airports, only $157 billion or 7% of Biden's Americans Jobs Plan would actually go towards infrastructure. This argument has been commonly used and is a common sticking point towards the passing of this bill. 
However, infrastructure should expand beyond this simple definition. In this modern age, improving overall utilities such as the power grid, which was a major crisis in Texas earlier this year, as well as enhancing communication systems such as internet access are just as vital as traditional infrastructure. Biden's plan attempts to expand the meaning of this term to fit a more 21st century view. If other aspects of the bill such as public transit, utilities, and communication systems were included, a more reasonable amount of $932 billion or roughly 40% of the bill would go towards infrastructure, according to the Associated Press. 
One other notable change of the Biden presidency compared to the Trump administration has been the overall response to climate change. Trump is recognized for his lackluster response to climate change with his roll back of numerous climate and environmental policies during his presidency. According to National Geographic, climate experts believe that while these actions contributed to an increase in carbon dioxide emissions, the most significant impact of the Trump climate era is the lack of ability to make forward progress on this issue.
Biden has begun to successfully address this issue. The president signed executive orders to rejoin the Paris Climate Agreement and cancelled construction of the controversial Keystone XL oil pipeline. Biden also directed agencies to reverse more than 100 environmental actions taken by Trump that relate to air and water pollution, drilling and extraction, public lands, and others.  
Biden's boldest goal is to reduce greenhouse gases by 50-52% of 2005 emission levels by 2030, with the objective of achieving zero net emissions twenty years from then. While these plans may sound incredibly ambitious, strong commitments like these and bold actions to fight climate change and other environmental problems are absolutely necessary. As the climate crisis grows more dire, prioritizing this issue is vital, which is exactly what the Biden administration has achieved over the last 100 days and will continue to fulfill over the next four years.
Biden's inauguration came in one of the most turbulent times in history with COVID-19 cases at their peak in the US and just two weeks following the US Capitol riots. While judging a president based on their first 100 days in office is in no way a fair assessment of their administration, the president's accomplishments by this informal deadline can certainly foreshadow the narrative of their presidency for the next four years. Biden's presidency has not come without disapproval — his actions in dealing with immigration and border security has been deemed questionable by the majority of Americans. However, it was clear that America needed a president who could not only improve the country, but unite the people and bring normal back.
In his first 100 days, Biden has proven to be just that leader.