School Meals Made Free in CCUSD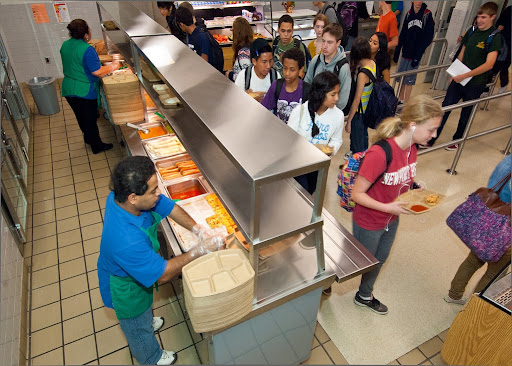 All students in CCUSD are able to eat school meals for free in the 2021-2022 school year. This decision follows the United States Department of Agriculture's (USDA) announcement back in April to extend its universal free meals program, which was adopted during the pandemic, through the end of this school year. 
Prior to the COVID-19 pandemic, school lunches at CCHS and CCMS were set at a price of $3.50 while breakfasts were around $2.25. Through a free and reduced lunch program, however, economically disadvantaged families that met certain qualifications could receive breakfasts and lunches for free or at a reduced price of 25 cents for the former and 40 cents for the latter. Despite the previous existence of this program, CCUSD Director of Food Service, Julie Garcia, believes that making school meals free for all students removes the stigma that previously came from being a recipient of the free and reduced program.
"They [students who qualified for the free and reduced program] weren't comfortable coming in to get lunch because their friends might find out … and they just didn't feel comfortable," Garcia said. "We've got more kids coming in now than ever."
With school meals being free, the US federal government has promised to provide school districts higher reimbursement rates to cover the prices of all meals, with breakfast reimbursed at $2.46 and lunches at $4.32 per meal. Prior to the pandemic, meals had only been reimbursed for free and reduced meals. As school cafeterias are supposed to be almost entirely self-supporting, these reimbursements are supposed to help schools better provide these meals. 
While the USDA has only extended its universal free meals program until the end of the summer of 2022, California has announced that they will continue to offer all students free breakfasts and lunches for the 2022-2023 school year, becoming the first state to do so. California's investment of $650 million for next year will cover the cost of being able to offer these meals free to all students, according to NPR. 
Despite the major benefits that have come from this universal program, however, school nutrition in CCUSD has not been exempt from the food, product, and labor shortages that have flooded the food industry across the country. With daily food cancellations and shortages, as well as a lack of other necessities such as packaging boxes, each day's menu and food supply can be unpredictable.
Nevertheless, despite some of these challenges and adjustments that have needed to be made, Garcia and all other workers in the district can assure that all students in Culver City Unified will be appropriately served to the correct nutrition standards. 
"We will get you all fed. We will continue to get you fed as healthfully as we can and as thoroughly as we can," Garcia said.
To all CCUSD students, make sure to take advantage of this program to ensure that you're properly fed for the rest of the school day. Please have your student ID card present and ready in hand to speed up the lines and ensure that every student can receive their meals.