2022 Student-Directed Plays
Following the spectacular run of its spring musical Little Shop of Horrors, CCHS' Blurred Vision Theater Company returned with another amazing event this spring: the annual Student-Directed Plays. Each year, students in the company have a chance to submit original short plays, which they are able to direct if the play is selected. This year, four incredible plays were chosen to be presented: River's Gone by Ava Ayala, See You Around? by Vanessa Andrick, Burn Bright by Larissa Andrick, and Don't Come Crying to Me by Abigail Cregor and Dayne Thompson.
River's Gone, See You Around?, and Burn Bright were performed on Sunday, April 24th, at 2:00 PM and 7:00 PM in the Robert Frost Auditorium to an enthusiastic audience. Don't Come Crying to Me will be performed this week on Wednesday, May 25th at 4:00 PM in Room 108. Students and their families are invited to attend this final performance of the company's student-directed plays, and tickets are free.
Because all five of the playwrights this year were seniors, this was a special run for them. Recently, we were able to sit down with each of the playwrights and conduct an interview in which they spoke about their experiences in writing and directing their shows. Please note this article does contain spoilers for the productions.
Don't Come Crying to Me by Abigail Cregor and Dayne Thompson
What is your play about?
Dayne: Our play is basically about this group of therapists who become friends and want to start a therapist union. Chaos ensues! Comedy ensues!
Abby: Along the way, they meet therapists from all walks of the industry and learn more about themselves, the meaning of friendship, the meaning of people skills, and discover the true meaning and purpose of therapy.
What was your inspiration behind the play?
Abby: For a while, whenever I thought of an idea for a play, I wrote it down. So when the time came, at the beginning of [playwriting] class, I had a bunch of ideas. Dayne and I shared our ideas and I was like, "What if…?"
Dayne: The idea of unionizing therapists just came to us.
Abby: For me, the inspiration was because therapy became such a focal point of my quarantine experience and a lot of other people's quarantine experiences. Even now, I've never known so many people to be seeking professional help.
Dayne: Or being so open…I know therapy can't always be a fun experience, especially for therapists, but just thinking about different characters a therapist might interact with, different kinds of people.
What has been your experience writing and directing the play?
Dayne: We did a playwriting class together in theater; that's one of the things you can do as a third or fourth-year AVPA Theater student. And, basically, we learned how to write a play. So we wrote our play in that class along with other students, and then we can submit them to our theater director, and she picks plays [to be showcased]. This year, she only picked four. From there, we got to direct our play!
Abby: It was super fun. I did a student [directed] play in my freshman year. It was my favorite event of the year and the first time I really felt a part of the theater community. And, I made a bunch of friends, so student-directed plays have always been my favorite events of the year. It feels super kismet and a full circle to be able to direct a play with Dayne.
Dayne: Writing plays together has been super nice. We're kind of on the same wavelength with our sense of humor, so that collaboration was very smooth and very nice.
Abby: We think we're hilarious.
Dayne: We do think we're hilarious. We're the only comedic play, the other plays delve more into heavy topics, so we're a bit of comedic relief, hopefully.
Abby: It's a great play. It's not just a clowny thing, it's comedic and thought out.
Dayne: Directing has been super cool. We're both tech [theater] students, so we don't really come from that background. But we've both been in improv and been around actors and all that, and we both have seen our theater director direct people. So, it's been really cool to be able to learn that process and better understand how to be an actor and how to be a tech person.
Abby: And just to see it all come together has been a great experience.
There are lots of different contrasting personalities in your play. How did you play around with it?
Abby: I remember just writing the play was so funny to me. Dayne and I were sitting in Tanner's on a Sunday morning just dying. We would be in playwriting and everyone was like, "I don't know how to build a character" and we'd be like, "A psychopath!"
Dayne: "Remember this person we saw the other day? Let's write about them!"
Abby: It's been super fun creating a character. It's a different kind of creativity, being able to build a person, and I really liked that.
Dayne: And, none of these characters are based [on] anyone in our lives, but they're kind of like, "Oh, I had an interaction with this weird person, I want to turn them into something."
Abby: Like, [one of the characters], Christ, is based around a woman I saw at a climate march in 2019. I didn't even talk to her, I just saw her. Just stuff like that.
Cast:
Linda: Josie Peinemann
Christ: Ben Siegel
Evelyn: Alex Weiss
Green Characters (Chloe, Bland One, Sam): Hana Varsano
Yellow Characters (Emily, One who is in the wrong place, Emotional One): Annelise Reilman
Purple Characters (Georgia, Sincere One, Sociopathic One): Marin Halbert
Burn Bright by Larissa Andrick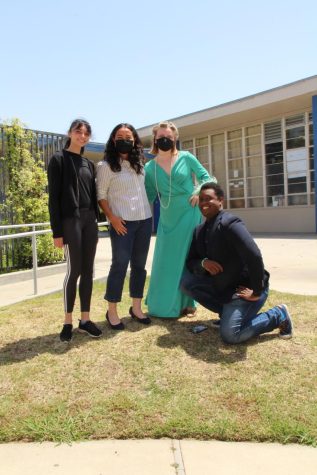 What is your play about?
My play is about a washed-up actress who's trying to regain her former self and former sense of identity.
What was your inspiration behind the play?
I've always been interested in looking from the actor/performer's perspective. I've always been interested in the entertainment industry, and I've watched and read media that tell similar stories. I was like, "I don't know, maybe I should write something about that.  
Burn Bright delves into people seeing and believing in an image of someone that isn't true or people seeing something that you're not. What was that like?
In my AP Literature class, we're talking about what it means to be authentic, specifically gender as performance. I was really thinking about that, like, how do we contextualize who we are in the world and how do we align that with how we feel inside? How do we view ourselves versus how we present ourselves to the world? I was really interested and I wanted to dig in with that.
What has been your experience writing and directing the play?
It's been a blast. It's been exciting. Because things are so fast-paced it's been a little nerve-wracking to know whether or not we're going to get everything together and as good as we want it to be in time for the shows, but it's been a really great educational experience. I've never directed before or had the opportunity to have my work presented in front of an audience before, so that's exciting. My cast is really talented and I really believe in them, and I'm excited to see them perform on Sunday.
How does it feel to see your characters come to life?
It's really great. I love how much they bring [themselves] to the roles, outside of just my notes and my direction. They care a lot about the show as well, [for] which I'm very grateful. It's hard to man a project where no one wants to be there. I'm very grateful for their hard work and dedication.
Cast:
Louise: Aine Lee
John: Kyle Irish-Hall
Aimee: Devyn Hackett
See You Around by Vanessa Andrick 
What is your play about?
My play is a repeating scene, kind of based on the idea of replaying your memories of somebody. It's about these two people, these girls, and they meet in college. And, it's like, "Oh, this is weird, we've done this before, haven't we?" It's based on how your memories change over time as your feelings change on something, so eventually, they break up. That [was] their first love, so they're always going to remember that as what it used to be like and all the bad things that happened. It's about growing up and changing and not necessarily being the same person; about meeting different people in your life and learning to let go of them.
What was your inspiration behind this play?
I wanted to write a repeating scene because I thought it would be really cool. I've seen things like Russian Doll, and there was this episode in "The Haunting of Bly Manor" that was about what they called "dementia of the soul." [This is] where, basically, a character was replaying her memories and becoming lucid, because, spoiler alert, she was a ghost! She's been dead the entire time. She's been replaying her life up until it happened, and being stuck in that sort of limbo was the feeling I wanted to capture. I started writing this after the student [directed] plays last year because I wanted to do something like this.
[At first,] I conceptualized it as a short film or something like that. So, I basically knew what I wanted the mechanism to be, and then I came up with the story. I was sort of coming to the realization that I was going to be leaving behind a lot of the people I knew to kind of do something else in my life, and I was really feeling it. I wanted to write a rom-com/love story. The original title was Meet Cute. They're stuck under an overhead, waiting out the rain, and neither of them has an umbrella. That was the original set up, and it was sort of exploring what a relationship actually means. I've really become good friends with the two actors in my play, Ivette and Trinity, so I was writing this with them in mind, not because I was going to guarantee cast them, but [because] I thought these roles would suit them well and I kind of was imagining them playing these characters. Not that these characters resemble them in any way, but I thought that they would work well together.
What has it been like to write and direct this play?
I'm not going to lie, the writing process was really challenging just because every time I had to change something, I had to change it in all the other scenes because the dialogue repeats a lot. I was worried about directing too, because I was like, "Are people going to think this is too boring or that there's nothing interesting happening?" But my actors are so incredibly talented and wonderful. I wanted it to be a collaborative process so I let them come up with their names and their character backstories, and we actually re-wrote the whole fight scene to reflect some of what they came up with. It was definitely a very tight turn-around, but I've been looking forward to having them work and read on it, so it was a really great process. The writing process was extraordinarily challenging because I was writing things to repeat over and over again. Writing natural-sounding dialogue is hard, but what I thought was, "How would someone say this out loud?" and it helped because I could envision the people I had in mind saying these lines. It also helps [to be] an actor because you know what something sounds like when you say it. I had a specific tone and intention for each line. My directing process really uncovered what my actors were thinking. I told them to write out their meaning behind the line and what they were thinking behind each one, and they came up with so many great things, so we ended up changing a lot of things to match their interpretations.
Has it been exciting to see your characters come to life?
It definitely was. I left them deliberately blank with very human conflict because I wanted anyone to be able to play these parts. I wanted [the] idea that this could be anyone. I left things deliberately vague or unsaid so the actors could go back and add their own spin on it.
Cast:
Person 1: Ivette Enriquez
Person 2: Trinity Fuller
River's Gone by Ava Ayala
What is your play about?
The main character, Drew, starts their first day of senior year with their best friend, River, and at the end of the day, Drew's parent tells them River is gone, [so] they relive the moments of the day to realize that River isn't gone, but dead.
What was the inspiration for your play?
It's actually so funny because my play is a drama/tragedy, but I based it on a horror movie I watched. It was about this girl who came out of a mental asylum, and she thought her sister was there with her… she [spends time with her sister until she] realizes her sister died in a boathouse fire years ago. I thought, "This was such a well-written horror story. I can do something like this." It's like you think you have a partner and you're doing this for the right reason, but all of this is fake. It's such a weird concept.
What was it like to write and direct?
If I'm being honest, I didn't think my play would be picked because there were others that were funnier or more involved. And, I was like, "You know what? It'd be fun to submit this." To direct it has been a challenge, to say the least. There've been a lot more hurdles than I expected there to be. It's been an extra challenge, but so far, I think the actors work [together] really well.
What has it been like to see your characters come to life?
It's been so interesting to see it played out. It's almost an entirely different way than how I wrote it. I wrote certain things in and I see myself adding more lines or more sense, and I'm like, "Wow, this is different from how I wrote it." But, it works because it's on a stage. I envisioned it like I would be writing this for a movie and not a play, but I tried to keep it realistic enough that it could be a play on stage.
Your play delves into many mental health issues. Has it been easy to direct that?
Not exactly. There [have been] a couple of moments where my main character is supposed to be having a panic attack and the thoughts in their head are just swirling onstage. I literally have the other cast members walking around them in the sense of time reversing, but all the events played out at random times. It's boggling. You can't truly hear what someone is saying but you can sort of catch on. Drew is definitely going through the five stages of grief with their friend, so having to get my actors to fully express grief and tragedy is tough, but they're talented, so they can do it.
Cast:
Drew: Davis Barthelman
River: Gemma Cheedle
Aspen: Giada San Jose
Parent/Teacher: Marcot Elisabeth
Students: Peri Muftuoglu & Cosette Okker