Culver City Art Walk & Roll 2022: Innovative "Neighborhood Block Party" 
Lily Maxson, Media Editor and Publicist
October 12, 2022
The annual Art Walk and Roll festival took place on Saturday, Oct. 8 in the Culver City Arts District. A portion of Washington Blvd. was closed, allowing visitors to walk around the street and browse the vendors and art galleries. A variety of booths from local artists and high school students were available to view for an interactive, artistic experience. 
The Culver City Art Walk official website says, "The free event features distinguished artists, live music, eclectic food trucks, beer gardens, kid's activities, and our fantastic micromobility showcase." A big emphasis of the festival was sustainable, alternative transportation. Electric scooters, bikes, and skateboards were displayed and those who attended were encouraged to try out riding e-skateboards for themselves.
AVPA School of Visual Arts (SOVA) students volunteered at the high school booth. The visual arts display showcased two pieces of art submitted by each student, all from different mediums and unique styles. Participating students were able to show their work to the public and receive recognition for their talent and skill. Young artists also got the opportunity to sell their creations. Handmade items such as watercolor paintings, bookmarks, postcards, macrame necklaces, photography prints, felt keychains, sweatshirts, and vinyl stickers were sold.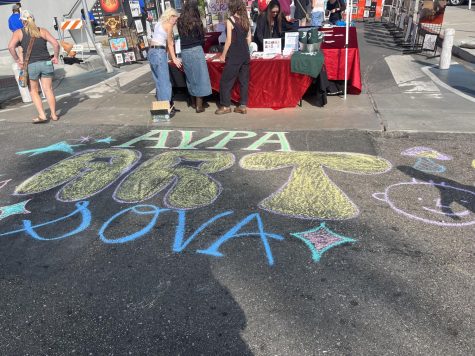 AVPA Music performed at 11 a.m. to start off the event on a cheerful note. During the event, two stages had performances from bands and solo artists, including The Ward & Mitchell Band, DJ CookieJar,  El Haro Kuroi, Double Batch Daddy, Top Shelf Brass Band, and DJ Camouflage Debarge (among others). 
The U.S.A. Today claims that the Culver City Arts District is "one of the 10 'best arts districts' in the nation." Each and every year, residents return for what they describe as a "neighborhood block party"— full of art, music, transportation, food, and fun. The annual Art Walk and Roll inspires those in Culver City to express their own individual creativity and consider using sustainable modes of transportation. The festival continues to serve as a community-building event that fosters collective growth and innovation.