Halloween Door Decorating & Costume Contest
This year, CCHS kicked off the Halloween season with a number of exciting activities hosted by the Associated Student Body (ASB). Leading up to the big day, a door decorating contest was hosted where classrooms competed to create doors that fit four Halloween themed categories. On Halloween day, there was a huge turn out of students and teachers dressing up for the school. To show off their costumes, a Halloween costume contest was held during lunch where participants competed in different categories.
Leading up to Halloween, ASB hosted their annual door decorating contest. Yet, this contest was publicized five days before Halloween, the day of judging, giving teachers very little time to prepare and resulting in only four participants: Mr. Dien, Mrs. Chang, Ms. Smith, and Mrs. Ayala. The judges were Mrs. Barten, Ms. Smith, and three ASB members: Josie, Steele, and Saleena. They judged the doors based on these three categories: Scariest, Most Creative, and Overall. Mrs. Chang won Most Creative and Mr. Dien killed the competition winning Scariest and Overall. The teachers who participated really pulled out the works for such a short timespan. Hopefully, next year there will be more participants. 
Luckily, we had much more school spirit on Halloween. There were a good handful of students who dressed up, but a few stood out from the crowd. ASB and Anime Club worked together to host a lunch costume contest. There were five categories: Scariest, Funniest, Group, Homemade, and best Teacher costume judged by Rowan and Scarlett from Anime Club, three ASB members: Orlando, Eden and Samantha, and Ms. Grasso.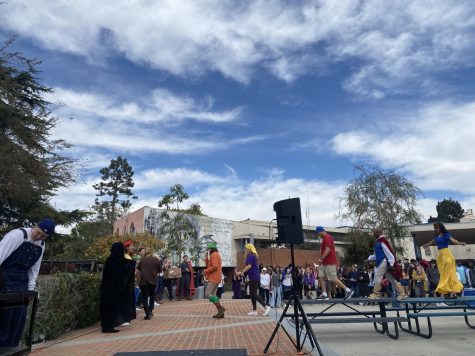 Best Homemade costume was won by Dylan Barducci with a Homemade TV head. Scariest costume was won by Randy De Paz-Calderon, as a pagan horse. Funniest costume was won by Boston Priestly and Calum Aranda, dressed as Saul Goodman and Gus Fring from the show Breaking Bad. Group costume was won by Shaun Masuda, Atsushi Komuro, Adam Kim, Bennett Kim, Luke Hohmann, Jack Conroy, Case Rowan, and Sihan Guo, dressed as French maids. Lastly, the best teacher costume was won by the iconic duo of Ms. Grasso and Dr. Della Donna as Mario and Luigi. Their costumes were amazing, but it was their performance that won them their title. They skipped down the runway to the Mario video game theme music. The winning students got to choose a friend to have a free lunch from a place of their choosing paid for by ASB. 
With the help of ASB, this year's on campus-Halloween festivities turned out to be a huge hit! From the door decoration contest to the Halloween costume contest during lunch, the spirit of Halloween was amplified on the CCHS campus for the fall season of 2022.