Review of Taylor Swift's 1989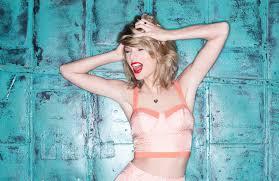 For the first person with three albums that sold more than a million copies in their first week, it is hard to believe that Taylor Swift did so by drastically reinventing herself each time. She is an admirable, talented musician but 1989 is mostly hit-and-miss, unless you like constant repetitive melodies with heavy bass and synthesizer.
The album starts off with a mildly catchy tune "Welcome to New York" describing the experience of moving to New York; the first lines of the chorus are, in fact, "Welcome to New York/ It's been waiting for you." Swift employs a much stronger tone and confidence than on her previous albums, however. Even by the first track, she shows that she is living for herself, with a newfound independence, and not even the familiarity of Nashville and country music can hold her back.  "Style" and "Wildest Dreams" are the furthest departures from her former self, and in the latter, she even says "hell," if you could believe it, and makes direct references to her male companions spending the night.
The highlight of the album is her single "Blank Space". Sarcastic and strong, Swift ends the chorus with the namesake of the song:
Got a long list of ex-lovers
They'll tell you I'm insane
But I got a blank space baby
And I'll write your name
Swift is, of course, addressing the way that the media has portrayed her as boy-chasing, overly dramatic, and synonymous with "dates a lot of people". Her video demonstrates this just as well, which has over 150 million viewers since its release in November. She again proves that she is not concerned with critics' portrayal of her in "Shake it Off", but with a wit that she and her team of writers have never used so effectively. The catchy melodies and dynamic arrangements make these truly the most Pop-ish songs on the album, even though "Bad Blood" has more of  the quintessential bass drum typical of her rival, tall "pop icons."
The album is overall unremarkable. The familiar Taylor-song about boyfriends resonates in songs like "All You Had to Do Was Stay" and "This Love," but 1989 is impressive for a 24-year-old woman moving away from most of what she is used to. This may not be the best record Taylor Swift has made or will make, but she still manifests her skill and passion for her career.