Vote16: Take it to the Polls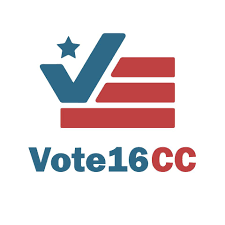 There are a variety of clubs at CCHS that allow students to find their public voice, allowing them to all thrive in their own special way at the school. But rarely do the voices of our school make an impact throughout the Culver City community in the way that the Vote 16 club has.
The Vote 16 campaign has created ripples in many cities throughout the country, including our very own Culver City. Co-founders Piper Samuels (senior), Rebecca Rottenberg (senior), Xochitl Madison (junior), and Sarah Hager (senior) first brought these ripples to Culver City at the start of this school year when they started the Vote16 Club at CCHS.
The idea that they could work on something that they believed in, in a way that could create change in the real world, is what attracted them to the Vote16 campaign. Many of these students are already involved in other extracurricular activities like Mock Trial, Speech and Debate, and Youth and Government. However, they wanted to do something that would specifically allow them to make a difference and be involved in the Culver City community.
The goal of the Vote 16 organization is to give 16-17 year olds the right to vote in municipal elections. Currently, they are working towards getting a measure on the 2020 ballot that would give voters the option of changing the legal voting age to 16 in Culver City elections.
They hope that by changing the legal voting age in Culver City, more CCHS students will want to be aware of what is happening in our city, and thus will want to participate in its events. In the long term, they believe that this early introduction into our government will encourage 18 year old students to take an active role in voting in our national elections. Tomorrow's leaders can be found in today's halls at CCHS.