AVPA Theatre: Meet the Playwrights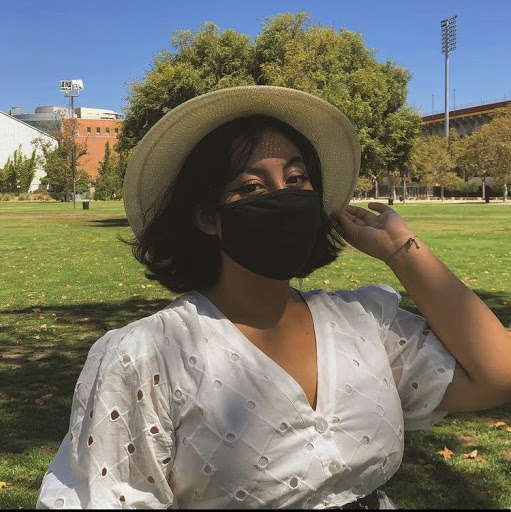 This Saturday at 7pm, AVPA Theatre is hosting a showcase of original plays written by students in the company. The chosen playwrights are Aliah Fabros with the "The Art of Trying", Sophia Lafaurie Munoz with "See You in Two Weeks," Caitlin Polesetsky with "Just The Two Of Us," and Sydney Halbert with "Going Up." 
Today, we are giving you an exclusive first look at the plot of their plays, and never before seen interviews with three of the amazing playwrights!
Aliah Fabros: "The Art of Trying"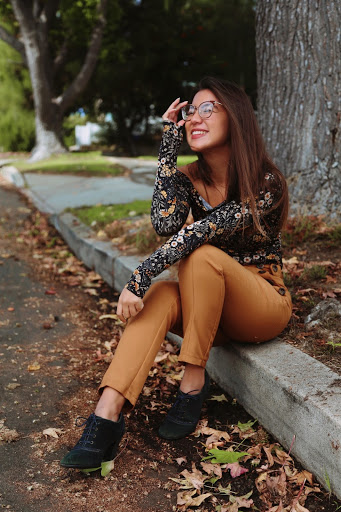 Who am I?
My name is Aliah Fabros and I am a senior at CCHS. I'm one of the presidents of AVPA's Blurred Vision Theater Company and represent the performance side of theater. Though I love the stage, I will be majoring in Creative Writing in college. This is my third and final student directed play and I couldn't be more grateful for the opportunity to give life to something I wrote. 
Synopsis of "The Art of Trying"
Through a series of phone calls taking place during their senior year, two friends begin to feel each other start to drift apart. Joy thinks her friend's lack of effort is a sign he doesn't care. He's trying to navigate the grueling process that is learning to love yourself and someone else. They're both trying. The question is whether trying is enough to keep a relationship afloat. 
CAST:
Joy: Aliah Fabros
Boy: Rowan Levi
The theme of the showcase is "About Love." What made you want to write about that specific subject?
For my particular show, it's about friendship & navigating a platonic but still important relationship. I think the reason we all wrote about love, without knowing it, is because this season of isolation has really gotten us all reflecting. Reflecting about people, how much we miss them, hate them, need them, want them. Maybe we all started thinking about how we would be braver than we were before, if we got the chance to ask that person out, would we now, now that we've lived through something like a pandemic that shows that you have to savor every person & moment you're given. In summary, I wrote about love because love has just been on my mind & I think it has been for a lot of us. 
Is it true you filmed your play in person?
Sorta. For the most part, Rowan and I filmed ourselves on our own cameras and uploaded our work on a google drive for me to edit on Imovie. We also recorded audio too. But there was one day where Rowan and I went out to the park together outside & shot some things together. I had gotten my second vaccine a couple weeks before, so thankfully we were able to get that footage. Honestly, those are my favorite shots from the film because I don't really see Joy & Boy, I just see Rowan and I hanging out. 
What was the writing process like for "The Art of Trying?'
I knew I wanted to write a play that would be . . . well boring. I know that sounds weird, but I wanted it to be a "talking show". Just a series of conversations. I wanted to push myself to see if I could make that interesting, could I find the drama or emotion in something as ordinary as an awkward facetime call. I wrote this play in November, and at the time I wasn't seeing people. I was just going through the rhythms of online school day in and day out. A murder mystery or fantastical recreation of a boys imagination (the plot of my two previous plays) really didn't seem to fit the state of mind I was in. So, I put on Buckets of Rain on loop (the Beth Orton Version) and in an hour wrote the whole thing from start to finish. I tend to always write songs because I think verses serve as good plot points. I drew inspiration from the lines "life is sad, life is a bust, all you can do is do what you must, you do what you must do and you do it well. i do it for you, honey baby can't you tell" — from there I got the idea to tell a story about someone who is going through a hard time, and how as people we can't promise to love perfectly and completely every day, but we have to promise to at least try to do what we can for a friendship to stay afloat. 
From my knowledge you've written a few student plays previously, what motivates you to keep writing?
Yes! I wrote "17th of April" my first year in theater and "Little Lion Man" my second and now The Art of Trying my third! (I joined BVTC as a sophomore). There are many reasons why I keep writing. For one thing, I'm majoring in a Writing BFA in college so writing for me has never just been a passion; I've known since I was in 7th grade that it is one of the purposes of my life. But I think playwriting in particular has been nothing short of a joy that I love being able to keep coming back to and I'll for sure miss being able to make these plays a reality on the stage (or camera) when I graduate. It's actually not the writing I keep doing but seeing what the actors do with my writing that I love. I remember sitting in 108 directing my first play, and a junior named Aidan and Sophie Price who was a sophomore at the time, were running the fight scene between the mom and the son. I was sipping a Coke, flipping through the script, following along when suddenly, Aidan forgot a line and stayed in character, then improvised for a second in effort to try to find the scene again and the two ended up yelling at each other at the same time the words "TALK TO ME". Immediately the rest of the cast, myself and my co-director got instant chills and you could hear a pin drop in the room. It's moments like those that can only be created on the stage, that are so magical and powerful that I have to keep returning back to them. I'm very fortunate to work with such lovely talented people who take whatever I write into something truly special. I used to say that it's my job as a director to make the actors care about the story, but it's the actors job to make the audience care. That sounds obvious – and maybe that was me taking the pressure off myself, but I owe a lot of the fun of this process to the people I work with."
What was the audition process like? Was it hard or easy to find the right actors? Did you know who you wanted beforehand, or did you have no idea? What made you want to cast yourself?
So the casting process wasn't typical. I knew I had to play Joy. Now that sounds like nepotism and hopefully it's believable when I say that I prefer just being the director. But, as this show only had a few weeks to be put together, and was to be shot in person, I had to make sure I could film inside the house of the main character. And following safety regulations, only I could be inside my own house. As for Boy – I really didn't have a clue who would play him. I auditioned a lot of people, all of whom were brilliant and it really was a tough decision when it came down to it. But Rowan & I have been best friends since 9th grade, and so I knew there was already chemistry there. Plus, Rowan is a writer like me & it always helps to work with someone who shares a love for dialogue & delivery & could help me edit lines in case they didn't work on the spot. Finally, Rowan is one of the Presidents of Film so they helped a lot in giving advice on editing and how to work a camera since it isn't really in my wheelhouse. 
Sophia Lafaurie Munoz: "See You in Two Weeks"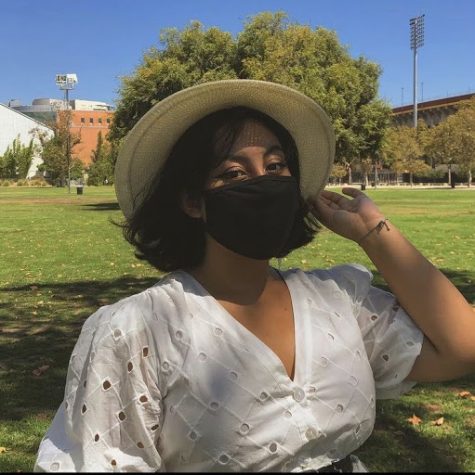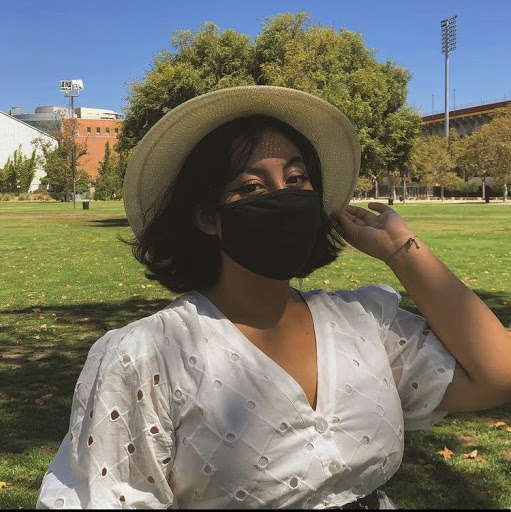 Who am I?
Sophia Lafaurie Munoz is a senior at CCHS and co-president of AVPA Theater. Even though COVID had been a huge obstacle when it came to the arts, they are still very thankful for this opportunity. Sophia has always loved writing and hopes to be a screenwriter and/or a director one day as well. They couldn't have done this without the amazing encouragement and support from their family and friends. They also wanted to shout out Lee Hanson for being such a great inspiration and for always believing in them with projects like these during their time at AVPA. Through obstacle after obstacle, they are still grateful for every opportunity they have received and will keep on going no matter what. The arts have been a big part of Sophia's life and they aren't stopping anytime soon.
Synopsis of "See You in Two Weeks"
"See You In Two Weeks" is a story about a teenager named Bailey who struggles with her self identity throughout a pandemic. With more time to herself and many revelations and realizations to follow, she has to come to terms with change by herself. Even though she has her two best friends, she still has to be the one to ultimately accept and love herself in the end to allow anyone else to do the same towards her.
CAST:
Bailey: Avery Bielski 
Jesse: Venice Poggi 
Rowan: Annelise Reilman 
Riley: Ava Ayala 
Evan: Luke Moniz 
Shane: Luke Hohmann 
Teacher: Davis Barthelman
The Theme of the Showcase is "About Love." What made you want to write about that specific subject?
When I wrote this piece, I had this idea of self acceptance and the process of dealing with change and I wanted to write it down. I had been in a similar place to that which Bailey, the main character in my play, had been in the entire year prior to writing this play. I wanted to express it in some way because it was a big change I had gone through in my life, and with this opportunity I let my emotions flow through the page. Self acceptance is self love and the way you view yourself can change how you view your life moving forward.
What was the writing process like for "See You In Two Weeks?'
Originally, I wasn't going to write this as my play submission. I was gonna go towards a comedy route. But for some reason, I just couldn't do it. Then I asked myself what I could relate to and almost vent about. I used what I was going through as a muse of some sort. 
How do you think quarantine has affected your writing, and in lieu of that your script?
As someone who wants to be a screenwriter and likes to write, this was most definitely an obstacle. I kind of predicted that our shows were gonna be shown over Zoom and online, so I wrote it to be a Zoom play. However, there are a lot of points in the show that I would've loved to portray in person and on a stage. I think I can speak for most, if not all, of the directors that we miss the stage.
What was the audition process like? Was it hard or easy to find the right actors? Did you have an idea of who you wanted beforehand, or did you have no idea?
Online, the audition process is so different. It's not that it was hard, but just so different that I had a couple of complications. Mostly everyone who auditioned was amazing, but I think the magical part of casting is when the perfect person for the role auditions and everything clicked. Lucky for me, that's how it was with all of my actors, I'm really proud of them for that.
What made you want to write about a character being LGBTQ+?
As someone who is in the LGBTQ+ community, I like to write my work and stories as inclusive as possible. There isn't a reason why certain characters have to be written a  certain way. For the character of Bailey though, I saw a lot of herself in me. I wanted a character that people could relate to when it comes to these kinds of situations. Not many characters are written for that kind of representation and I hope that it becomes normalized, which is why I try to do so through my writing no matter what.
Caitlin Polesetsky: Just The Two Of Us
Who am I?
Caitlin Polesetsky is a sophomore at CCHS involved in theater, creative writing, and journalism. When not working, she enjoys finding new music, films, and reading.
Synopsis of "Just the Two of Us"
Salem, with the help of her friend Sage, asks out her longtime crush, Aster. When it doesn't go quite as planned, she realizes that there's an underlying reason for her uncharacteristic emotion about the rejection.
CAST:
Salem: Vanessa Andrick
Sage: Gabby Gilbert
Aster: Ivette Enriquez
Meadow: Grayson Lee
Noah: Sofia Pezo 
The Theme of the Showcase is "About Love." What made you want to write about that specific subject?
It's funny, the theme of the showcase is "About Love" because it ended up that all the playwrights wrote about love. This was completely unintentional, so we chose the tagline "About Love" to unite all the plays under a common theme. I chose to write about self-love, which is something I feel is missing from a lot of plays and movies, which usually center around romantic relationships. Not everybody lives through a dramatic love affair, but almost everybody has had to struggle with loving every aspect of themselves.
What was the writing process like for "Just The Two Of Us?'
The writing process was a lot of fun. I wrote it over the course of ten weeks during the Playwriting class (which is available to all students, and I highly recommend it!). It definitely seemed like an impossible task at first, because this is my first play and I had no idea where to start. However, the teacher, Mara, was incredibly supportive and helpful. She made sure we had a solid beginning, middle, and end, and then helped us fill in the blanks with dialogue, character design, and stage directions. The class is also very small (I think mine had seven people?) so I had a community there that gave me honest feedback and support.
How do you think quarantine has affected your writing; and in lieu of that your script?
I really thought that I would write more during quarantine since there's so much less to do; no commute to school, less time with friends, etc. In reality, it was really hard to get motivated to write. There are so many distractions online jumping out at you that it's hard to get in the right headspace. The best thing for me to do was structure my play on paper and then switch to my computer when it was time to use Google Docs. On the other hand, being online gave me a new perspective to play with: Zoom. Last year, the student plays had to be quickly adapted to Zoom as school had only closed a couple of weeks before. For my script, I decided to write it specifically for Zoom; I actually have no idea how it would work on stage. I had a lot of fun adding little details like different names on Zoom, the backgrounds people have, and even a fun phone case (see if you can find it!).
What was the audition process like? Was it hard or easy to find the right actors? Did you have an idea of who you wanted beforehand, or did you have no idea?
The auditions were open to everybody in CCHS, and we sent out a form to sign up for an audition. Each person got five minutes to read the sides we sent out, and each person could read for up to three characters. It was difficult to find the right actors because there were so many talented people that it was hard to choose! In the end, I decided to prioritize cast chemistry because of the lighthearted energy I wanted the play to have. I also chose to have an all-female cast, which I felt fit in with the feeling of the show. While insecurity isn't a gendered issue, it's true that girls tend to feel that burden more heavily than boys do. I also made sure that the actors I chose would be comfortable with using improv. All throughout rehearsal, I wanted to make sure that the script was never set in stone. If my actors thought that adding an extra line or gesture would add to the show, we tried it out. Conversely, if I wanted to throw something in there, we would test it. It ended up being really successful and creating some of my favorite moments in the play! As for thinking about actors ahead, I really tried to go into auditions with an open mind. Of course, I had a couple of thoughts about who I wanted to play what role, but it's also important to remember that all the student play directors have to share actors. No one actor can be in more than one show, so all the playwrights had to make some compromises if anybody wanted the same actor. We all make sure to come into negotiation with our first, second, and third choices.
The student plays are held this Saturday at 7pm, April 24th 2021. The link to register for the performance is on the AVPA website: https://avpa.org/studentdirectedplays/ Attendance is free, but donations are welcome!