Looking back on Breast Cancer Awareness month at Culver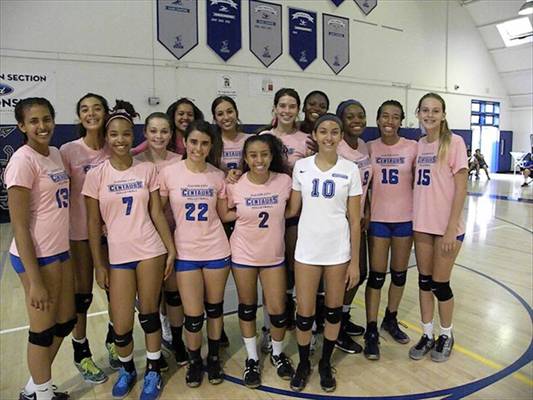 No doubt you already knew that October is Breast Cancer Awareness Month, thanks to 'Awareness Wednesday', the posters, the sporting events, and the many other activities promoting it around Culver City High School last month. This year, Culver has stepped it up in their best effort yet to raise awareness, and to support a cause that is very near and dear to many of the student's hearts.
During the Girls Volleyball 'Dig Pink' game- in which the players and crowd wore pink and gave out free pink necklaces, stickers, etc. from the snack bar- the Lady Centaurs faced their rivals, Santa Monica, and attracted an enormous crowd. Breast cancer is a big part of many of our student's lives here at Culver because it is too often connected with those we love. Before the game, Pauline McCoy, a breast cancer survivor and the grandmother of Katrina McCoy (a varsity volleyball player), was honored. "My grandma is my best friend and my hero so I don't know what I would do without her," Katrina said. "Earlier this year, my grandma was diagnosed with stage one breast cancer and it was the scariest thing I have ever experienced. When my grandma was honored at our breast cancer awareness game, I was so happy because she is a true fighter and deserves to be recognized."
Motivated by the cause, the crowd, and the touching prelude to the match, the Lady Centaurs defeated Santa Monica.
Volleyball hasn't been the only sport to help make a difference this month. During the Culver City vs. Santa Monica football game near the end of the month, a tent was set up where everything from hot pink bracelets and pins to hot pink shirts were sold. Donations were also collected, and all proceeds went to organizations to help find a cure. Also, during the halftime show, the soccer, cheer, volleyball, and baseball teams, as well as the sports trainers and any others wearing pink, were invited onto the field into the formation of a breast cancer ribbon. In the middle of this ribbon, some breast cancer survivors and current fighters were recognized for their immense strength and bravery to keep fighting.
Another effort around Culver to keep in the spirit of the month, was 'Awareness Wednesday', a day during our spirit week to encourage students to go all out in pink and support the cause. Other contributions included posters seen around school, and the mass amount of pink strategically placed around campus.
If you ask any student at Culver City High School whether Breast Cancer Awareness Month was a success, their answer will most likely be a proud yes. We've taken our part in spreading this awareness and working towards a cause very seriously, and shown our support the best we can — through sports, spirit days, pep rallies, posters, and everything in between.