New AVPA Theatre Production Coming in November!
AVPA's Blurred Vision Theater Company (BVTC) recently announced this year's fall production: David Henry Hwang's satire Yellow Face. BVTC will be partnering with the first Asian American theater organization in the country, East West Players, which is based here in Los Angeles.
BVTC's creative director and co-director, Lee Hanson, said, "This is a play that David Henry Hwang wrote as kind of an homage to his father. It's about his relationship with his dad, but also about how in the arts, in particular, there has been a lot of cultural appropriation. This is still really common to this day in film and in theater towards Asian Americans."
The term 'yellowface' is used to describe the practice of actors altering their appearances to play the role of an East Asian person. The use of yellowface and Asian whitewashing have been present for decades and have still continued to this day. Some examples are through the actors Scarlett Johansson in Ghost in the Shell and Mickey Rooney in Breakfast at Tiffany's. One of the most notable examples, which is highlighted in Yellow Face, was the casting of Jonathan Pryce in Miss Saigon, a popular Broadway musical set during the Vietnam War. David Henry Hwang himself spoke out against Pryce's casting in the 1990's.
"We really have to hold ourselves accountable in the theater and as artists to make sure we are representing a culture authentically," said Ms. Hanson.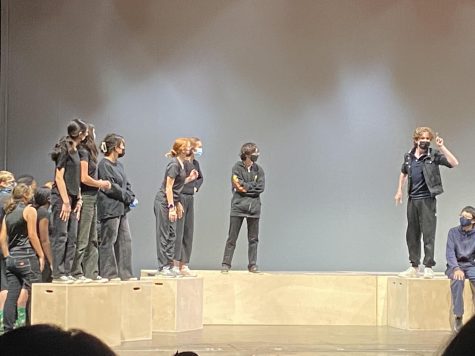 The show is made up of a main cast of Asian and Asian-American characters. When asked about casting and if there were any difficulties in finding actors, Stephanie Lee, one of the show's co-directors, said, "We opened up the casting to the whole school. I was really surprised at how many non-theater kids auditioned for this play. Because we opened it up to the whole school, there are students who feel like their stories are being reflected and heard."
Ms. Hanson agreed. "We are very blessed at this school to have a very diverse community. We were a little concerned in the beginning, like, 'Are we going to have the right people come out and audition for this?' And they did. This opened up doors for people to feel included and see themselves in a production."
She said that she decided to select this show because of the recent wave of Asian American hate and violence that has been going on in the country over the past year and a half. 
"In terms of why now, specifically, I think particularly with all the Asian hate that has been circulating due to the really 'progrestering' COVID crisis that was the rhetoric of politicians and people who wanted to blame the Asian community for it. This put Asian Americans at risk and took away their safety," Ms. Hanson said.
The show tackles heavy topics, such as racial identity and social bias, but it's still a comedy. "While researching this play, I listened to so many interviews with David Henry Hwang," said Ms. Lee. "His quote that I love is, 'laughter opens your mind and allows you to think about new things.' That's what I want the audience to take away from this."
Yellow Face will be playing on Nov. 4-6 at 7 PM and on Nov. 7 at 2 PM in the Robert Frost Auditorium.