Better Late Than Never: Knott's Berry Farm, Here Comes CCHS Class of 2025!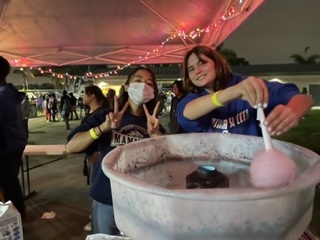 CCHS Sophomore Class Council has wasted no time setting up fundraisers and events to raise money for a trip to Knott's Berry Farm for all sophomores. Due to COVID-19 school closures, the present Sophomore Class missed out on their traditional eighth grade field trip to Knott's Berry Farm. Therefore, the Sophomore Class Council is intent on making sure that students have a chance to make up for some of the missed opportunities that the pandemic took away from us.
The CCHS Sophomore Class Council meets every Monday, in room 12 with Ms. Fattorini. This year's Sophomore Class President is Kalia Lowitz, and the Vice President is Naime Melaku. Together, with the support of the other council members, the Council is intent on raising around $12,000.
When speaking to Kalia and Naime, they both stated that they wanted to get a head start on the fundraising for the Sophomore Class Council, so the first fundraiser this year was a booth at 10th Grade registration receiving donations from parents, staff, and students. Since school resumed in August after summer break, the council has partnered with Trá Space to sell boba and have also worked with the Culver City High School Football Team to sell cotton candy at every home football game, and have had bake sales. Kalia and Naime are working with Ms. Tucker and the administration to set up a donation system to ensure the Sophomore Class Council can have a trouble-free way of receiving donations that help the council work toward achieving their goal.
Currently, the fundraisers are averaging around $360 to $400 per event. The fundraisers that are expected to take place in the near future include a collaboration with Windsor Hills Pizza, a cupcake/cakepop sale, selling coffee, hot chocolate, and donuts in the mornings, Popcornopolis event, and selling treats (possibly cotton candy) at sports games. The Council is always open  to discussing new ideas during their Monday meetings to plan new and exciting events that are profitable, in addition to providing a social atmosphere for sophomores to gather.
When asked about the importance of this field trip to Knott's Berry farm, Kalia mentioned that Knott's Berry Farm is the main fundraising goal of the Sophomore Council, due to the fact that the class of 2025 has not attended any field trips since elementary school, due to the pandemic. Kalia ended off with, "the Sophomore Class Council would like to bring equal care and attention to the class of 2025 as many students are experiencing academic burnout: the field trip is a way of giving students a necessary break and incentive to keep up their hard work."
Sophomore Class Council offers 10th grade students a community to meet new friends, build connections, have their voices heard, obtain needed volunteer hours to graduate high school, keep updated with school news for our grade, and to have a more positive and fun high school experience. 
Sophomore Class Council is open to any sophomore. Remember to follow their Instagram and Remind to stay updated!
@sophomoreclasscouncilcchs (Instagram)
Text @omgcchs to the phone number 81010 (to join the Remind)
 "Alone we can do so little; together we can do so much." – Helen Keller