Journalism Club: Adapting and Enduring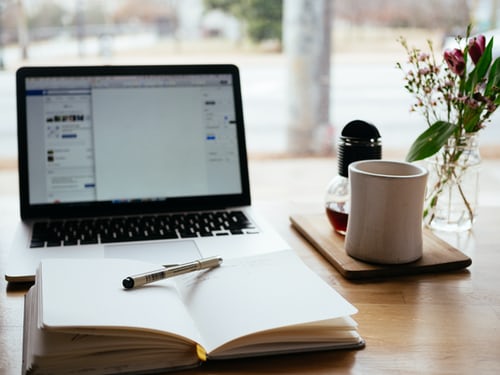 For decades, the journalism program at CCHS has amplified student voices. Once a monthly student newspaper, it now consists of a dynamic student news website, The Centaurian; a new monthly podcast, Centaurcast; and a partnership with Culver City Neighbors magazine. 
CCHS senior and Journalism Club President Brandon Kim mentors writers, facilitates meetings, and helps write podcast scripts. "As a writer who is passionate about contributing to ideological diversity, I have a responsibility to deliver the truth and inform people in the community." Inspired to pursue journalism and writing in college, Brandon hopes to become a staff writer for his future university's student news outlets.
Freshman Sofia Pezo embraces Journalism Club as an opportunity for growth as a writer. "I hadn't previously had the opportunity in middle school to write about my perspectives and have them read by peers, administrators, and Culver residents." Provided with this platform, Sofia is able to enjoy the freedom she is given to express perspectives on relevant issues as well as write articles that encourage her to interact with her community. 
When interviewing peers for arts & entertainment and opinion pieces, freshman Hana Varsano has been able to engage with several different perspectives and even become aware of new campus events. "When I interviewed [Dance Director] Carol Zee for an article about how AVPA arts programs had been coping with new virtual norms, I was fascinated to learn of their new dance studio and dance concert events. I not only felt more deeply connected to the life of CCHS students but also to the lives of peers in the AVPA dance department," close neighbors to her own AVPA Theatre Department. 
The club's advisor for the past 20 years, Penny Schulte, described the evolution of the program from a class that met daily and produced a monthly newspaper to a club that meets weekly at lunch and maintains a website and podcast, and contributes a monthly story to Culver City Neighbors magazine. "As newspapers disappeared, participation in the program waned," she lamented. However, "the pandemic has brought a renewed interest in writing for the website and this year we have one of the most active staffs ever." 
This year's four editors (Brandon Kim, Allyn Matheson, Caitlin Polesetsky, and myself) founded Centaurcast, a podcast that brings controversial and engaging anecdotal experiences of fellow students to a broader audience. Through our carefully crafted episodes, we hope to interconnect our student community, sharing the diverse culture and backgrounds of our peers especially during a time when we have been unable to interact in person for the past year.
The first episode of the podcast featured the prevalent yet unspoken issue of ideological conformity on campus (political and otherwise), coined as Silencing Culture, in which Brandon and I co-moderated interview-discussions and personal anecdotes with a variety of diverse students. Other episodes include student immigrant experiences and environmental issues in Culver City, all through the eyes of Culver's youth. 
Through the club's partnership with Culver City Neighbors magazine, students are able to amplify perspectives beyond the scholastic community. Copy Editor Caitlin Polesetsky said, "When I wrote an article for the magazine about the SOUP club, I was able to talk to people in my school's community, learn about how they come together to talk about heavy political topics and engage in civil discourse." 
Journalistic outlets for students are vital, according to freshman staff writer Jonathan Kim, especially considering the "iron curtain-like" barrier that has inhibited the growth of our personal communication skills. "Regardless of the career I choose, learning how to eloquently deliver my words is a valuable asset to have," Jonathan said.
Perhaps, the Journalism Club's growing roster of writers and new platforms will poke holes through that isolation barrier, further allowing us to engage in the lives of the people in our community.